Over the years, memory care communities have unfortunately received a bad rap. Long-held stereotypes of small, hospital-like rooms, unappetizing food, and bored residents persist.

Those misconceptions couldn't be further from the truth. Modern memory support emphasizes residents living full, engaged, and happy lives.

Every person living with Alzheimer's disease or another dementia is unique — and their wants, needs, goals, and dreams are also unique. What's most important is knowing that their community is not only attending to those needs, but also adapting as they change. Learn what families and their loved ones can expect from a WesleyLife memory care household:
Apartments That Feel Like Home
Families unsure of what to expect from a memory care household are often surprised to discover how much the living spaces feel like home. Memory support households feature spacious private apartments that residents and their families can decorate and personalize to their tastes.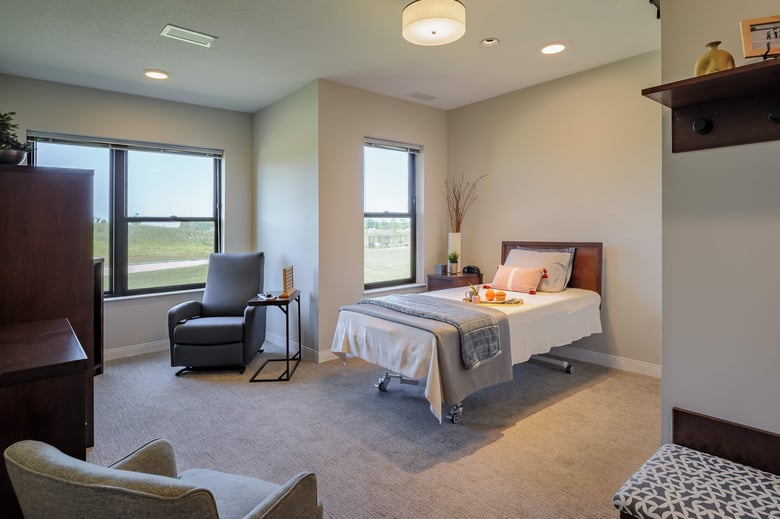 Memory care living also is practical. Rooms are designed with ease of use and resident safety in mind. This design includes:
Zero-entry walk-in showers
Emergency call systems
Wide doorways
Accessible fixtures and outlets
Amenities and Services
The services and amenities offered in a WesleyLife memory care household help residents live as independently and stress-free as possible. For example:
Housekeeping and laundry services ease residents' worries about chores and apartment maintenance, allowing them to focus on what they enjoy.
Household common areas give residents a place to socialize with friends, pursue interests and passions, or simply relax.
Walking paths, gardens, and other outdoor spaces provide opportunities to exercise, stroll with family, or enjoy a sunny day.
An on-site salon/barbershop helps residents look sharp and feel good about themselves without having to leave the community.
Team members are also available to help with personal care, improving residents' confidence and well-being.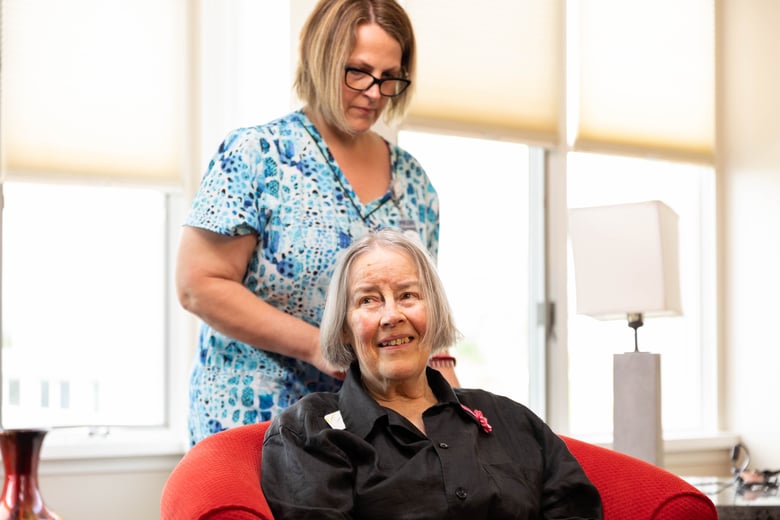 Fabulous Food
Meals are an important part of the living experience in a memory care community. Dining with friends and family offers an opportunity for residents to nourish not only their bodies, but also their souls.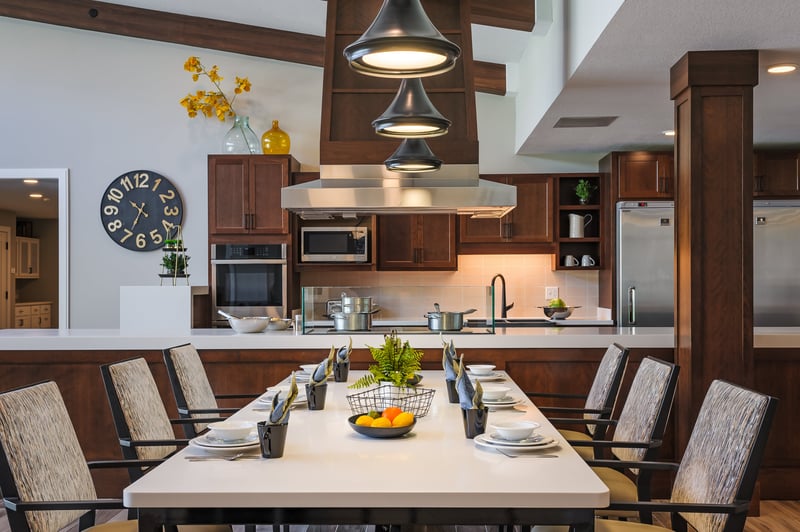 In a WesleyLife memory care household, team members we call "homemakers" prepare intentional meals made with fresh ingredients — no bland food or rushed recipes allowed. Food is prepared with residents' health and enjoyment in mind. Your loved one will be offered a choice of meals, and dessert is always on the menu. Meals are also served in a dining room setting, meaning no trays or waiting in a cafeteria line.

In addition to community dining, some apartments include a small refrigerator so residents can grab a snack or make a quick sandwich when they choose. Homemakers may also offer drinks and light snacks for residents to enjoy throughout the day, and they are available to take requests.
A Commitment to Care
What most families expect from a memory care community is high-quality care. They want the peace of mind that their loved ones are being attended to with respect, expertise, and love. Memory support at a WesleyLife community delivers this and more:
Professional team members are specially trained and certified to care for residents with Alzheimer's and other dementias.
Memory care communities provide 24/7 support to ensure residents stay safe. Their needs are attended to quickly, and any changes in their health and well-being are noted.
Our award-winning household design emphasizes warmth and familiarity, with elements that put residents at ease rather than overwhelm them.
Just like community apartments, memory support common areas are cozy and help give residents a sense of home.
Team members prioritize residents' well-being, assisting with medication management, mobility assistance, socialization, and more.
Programming at a Memory Care Community
Memory care for seniors aims to make residents' days as full and interesting as possible. In pursuit of this goal, communities provide programming that enriches residents' lives.

Frequent low-impact exercise benefits all older adults, but it can especially help memory care residents. Regular movement improves mobility and balance, reduces restlessness (which is often a trigger for wandering), and boosts sleep quality — all problems experienced by people living with Alzheimer's and other dementias. Memory care communities offer various exercise opportunities that provide an active, fun workout for residents, including yoga, light aerobics, and low-impact weights.

Beyond exercise, memory support also offers a range of group activities that emphasize engagement, friendship, comfort, and active living. Moreover, dementia-specific therapies, such as pet therapy and music therapy, offer friendliness and familiarity that increase confidence and reduce anxiety.

Families who don't know what to expect from a memory care household might also be unsure if a loved one requires memory support. This five-minute assessment offers a good first step in determining what might be best for your loved one.