Get Started:

Donate today
Your donation can make a real difference to the thousands of people we serve.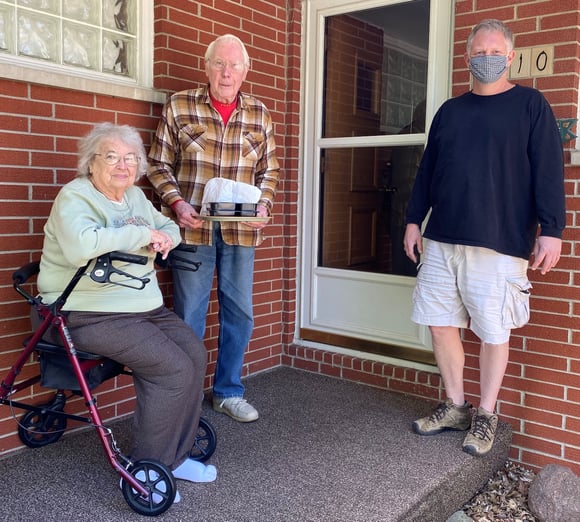 Designating Your Gift
WesleyLife Foundation counts on support from generous donors like you to solve our community's most compelling needs facing older adults, including food insecurity, vital services to help individuals remain independent at home, meet the healthcare needs of uninsured clients, and so much more. Your donation to our mission is greatly appreciated and needed.
Ways to Make a Donation
---
Give Online
Use the form below to make a donation to the program of your choice.
Donate Now
Mail a Donation
Contributions can be sent to:
WesleyLife Foundation
5508 NW 88th St.
Johnston, IA 50131
Call our Team
Make a donation over the phone or connect with the Foundation team.
Call (515) 271-6789
Email our Team
Work with the WesleyLife Foundation team to customize your gift.
Email foundation@wesleylife.org
Include WesleyLife Foundation in Your Will
Support vulnerable older adults and veterans beyond your lifetime with an estate gift.
Learn More
Donate Financial Assets
Make a gift of a security or appreciated asset by getting in touch with our team.
Contact Us
Make a Donation
Tax-deductible charitable contributions
WesleyLife Foundation, an IRS Section 501(c)3 nonprofit charitable organization, is qualified to receive deductible charitable contributions. Our EIN number is 88-2893273. Charitable contributions are defined as a donation or gift to, and for the use of, WesleyLife Foundation. Gifts are voluntary and are made without receipt of, or promise of receipt of, anything of equal value.
Generally, you may deduct contributions of money or property you make to, or for the use of, WesleyLife Foundation. Consult IRS Publication 526, Charitable Contributions or your tax advisor on the amount of your deduction. Workflow and platform intro tour; how it works dolor est nullam
Fusce dapibus, tellus ac cursus commodo, tortor mauris condimentum nibh, ut fermentum massa justo sit amet risus. Maecenas faucibus mollis interdum. Vestibulum id ligula porta felis. Vivamus sagittis lacus vel augue.
Take a tour lorem ipsum dolor
--- Feature description donec ullamcorper nulla non metus auctor fringilla. Integer posuere erat a ante venenatis dapibus posuere velit aliquet. Vivamus sagittis lacus vel augue laoreet rutrum faucibus dolor auctor. Sed posuere consectetur est at lobortis. Optional learn more about lorem Feature description donec ullamcorper nulla non metus auctor fringilla. Integer posuere erat a ante venenatis dapibus posuere velit aliquet. Vivamus sagittis lacus vel augue laoreet rutrum faucibus dolor auctor. Sed posuere consectetur est at lobortis. Optional learn more about lorem Feature description donec ullamcorper nulla non metus auctor fringilla. Integer posuere erat a ante venenatis dapibus posuere velit aliquet. Vivamus sagittis lacus vel augue laoreet rutrum faucibus dolor auctor. Sed posuere consectetur est at lobortis. Optional learn more about lorem
WesleyLife Foundation's EIN number is 88-2893273