Ensuring the comfort and safety of a family member living with Alzheimer's disease or another form of dementia is critical to that person's quality of life.

Dementia care home decor uses interior design elements that can guide you as you decorate or rearrange your loved one's living space, enhance accessibility, and help them take pleasure in their surroundings.
5 Elements of Interior Design to Consider
When you're considering memory care decorating ideas, the essential elements of interior design can provide a good roadmap. Dementia often affects the parts of the brain that handle visual information. Even if a loved one seems to enjoy their surroundings, they may begin to perceive them differently, and even subtle changes can be beneficial. Consider these tips!
1. Lighting
Sufficient lighting can increase safety, improve sleep, reduce disruptive emotions, and help your loved one identify rooms, spaces, and elements of spaces.

Make the most of natural lighting by installing sheer window curtains and moving furniture that blocks daylight. Additionally, reduce glare from light bouncing off shiny objects. For example, use anti-glare spray on glass frames, or cover wooden floors that reflect light with large rugs (while being mindful that carpets are potential tripping hazards). You can also fully replace wooden floors with carpet.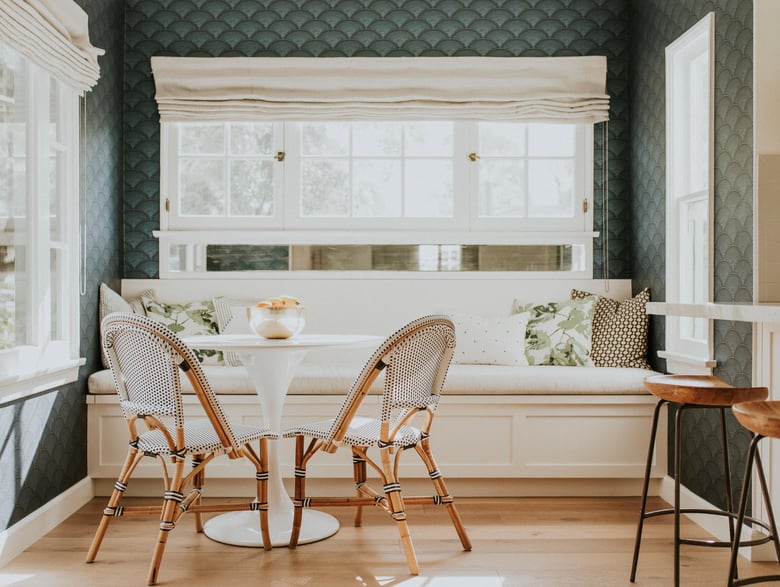 A well-lit room can help with orientation and wayfinding.
2. Patterns
When it comes to patterns, the simpler, the better. Although clashing or complex patterns bring life and motion to a space, they can look chaotic and cause confusion.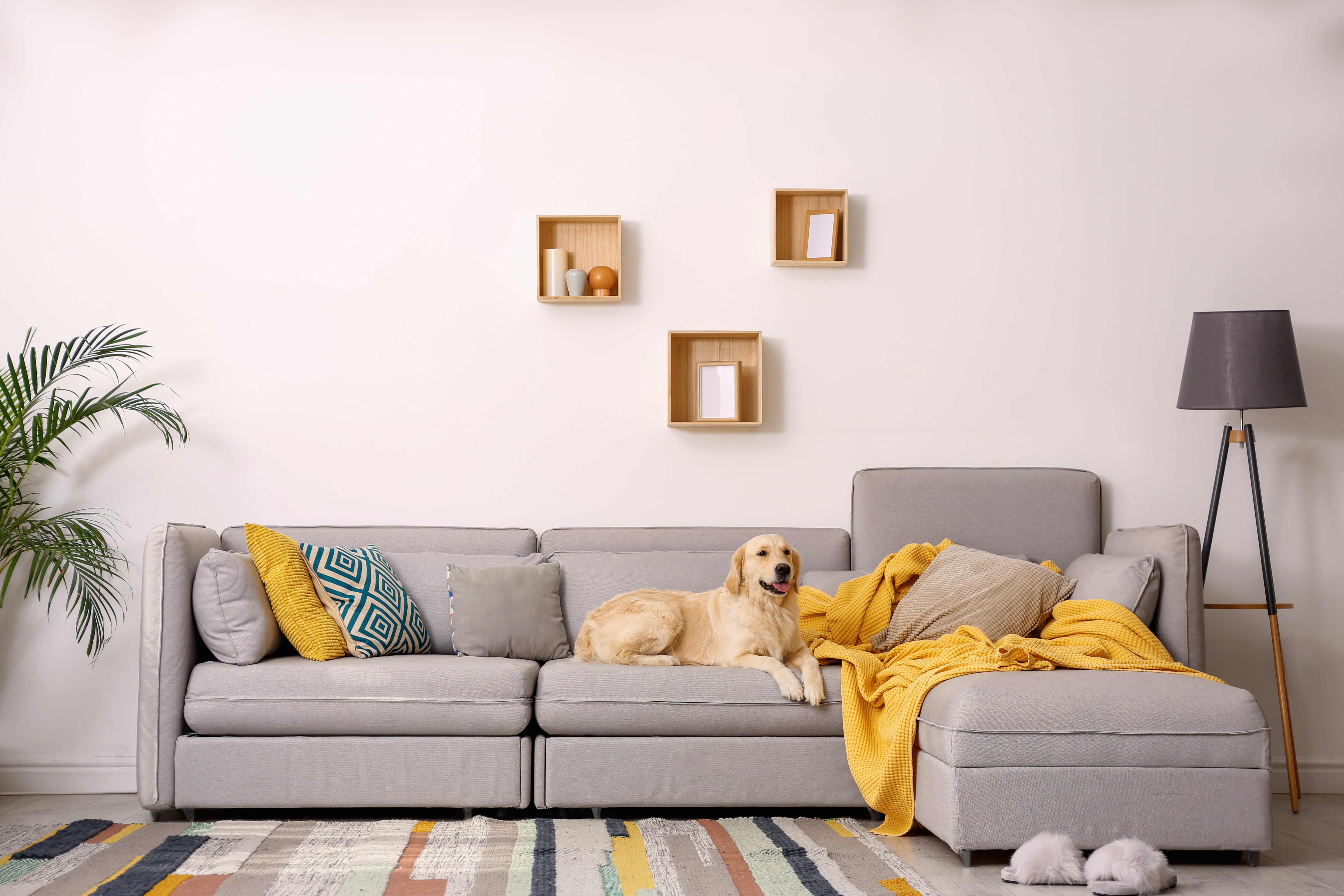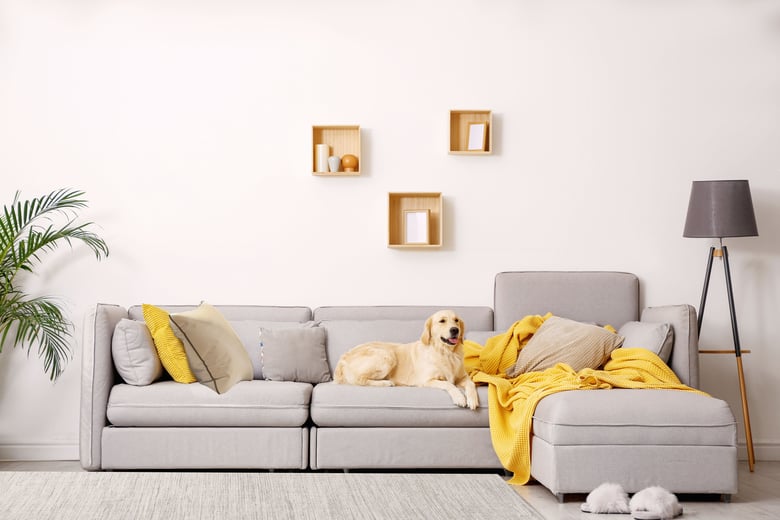 Removing accent patterns can make a space less visually confusing.
3. Color Contrast
Color contrast can help a person distinguish objects from one another. For example, the colors of chairs and the floor should contrast so your loved one can clearly see where to sit.

Color can also determine the energy of a room. For example, red is often interpreted as an intense hue, whereas green and blue are considered soothing. Keep this in mind if you choose to repaint a room.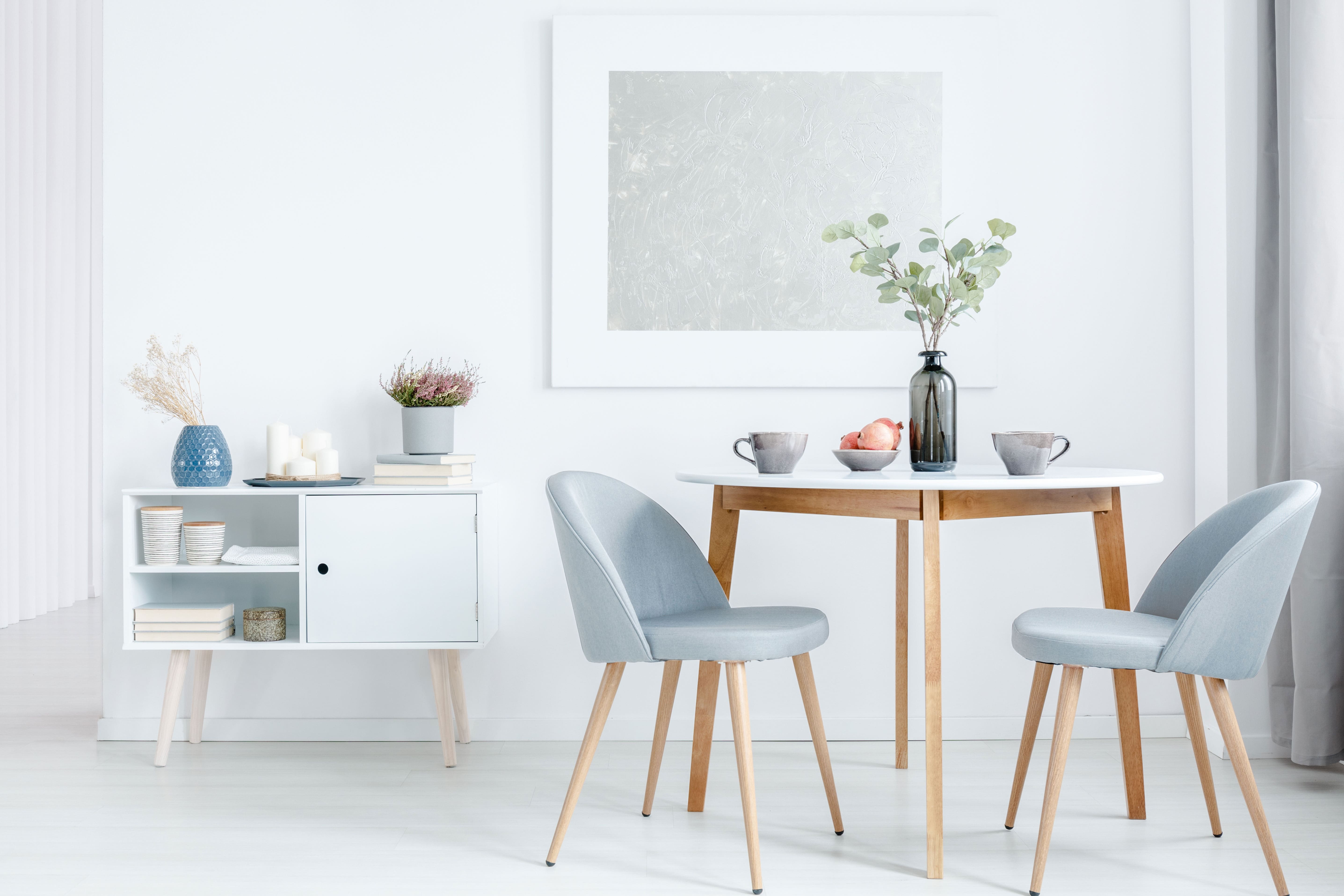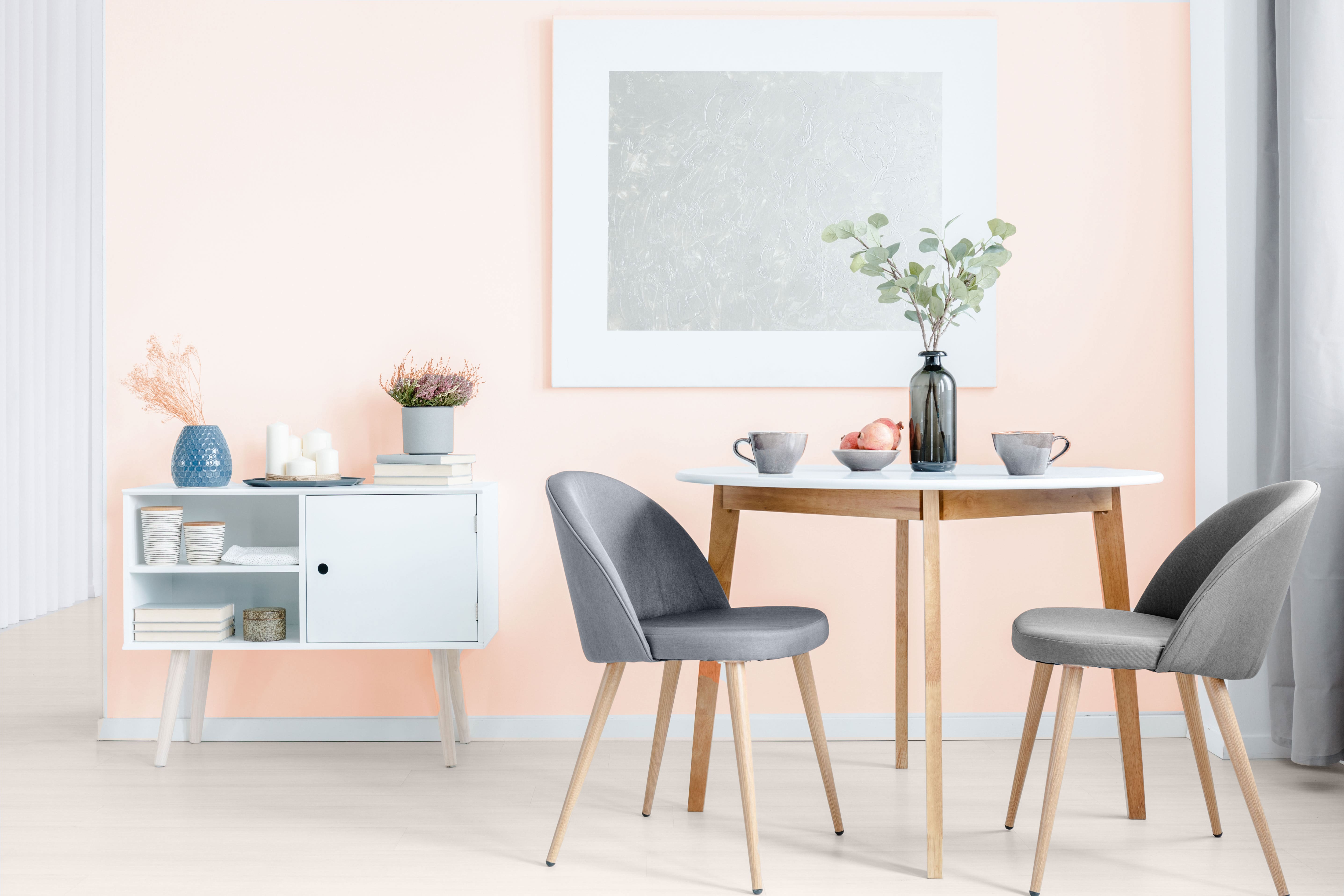 Increasing the contrast between the floor, walls, and furniture can make a space easier to navigate.
4. Lines

Typically, interior design features horizontal, vertical, and dynamic lines (e.g., diagonals). For dementia care home decor, try to feature as many horizontal lines as possible. Some experts claim horizontal lines create a sense of peace.
5. Space
Space is at the heart of every design decision. When creating consistency with the objects in the room, consider the negative (i.e., empty) space. Not only does it break the room up visually, but it also allows for easy, fluid navigation.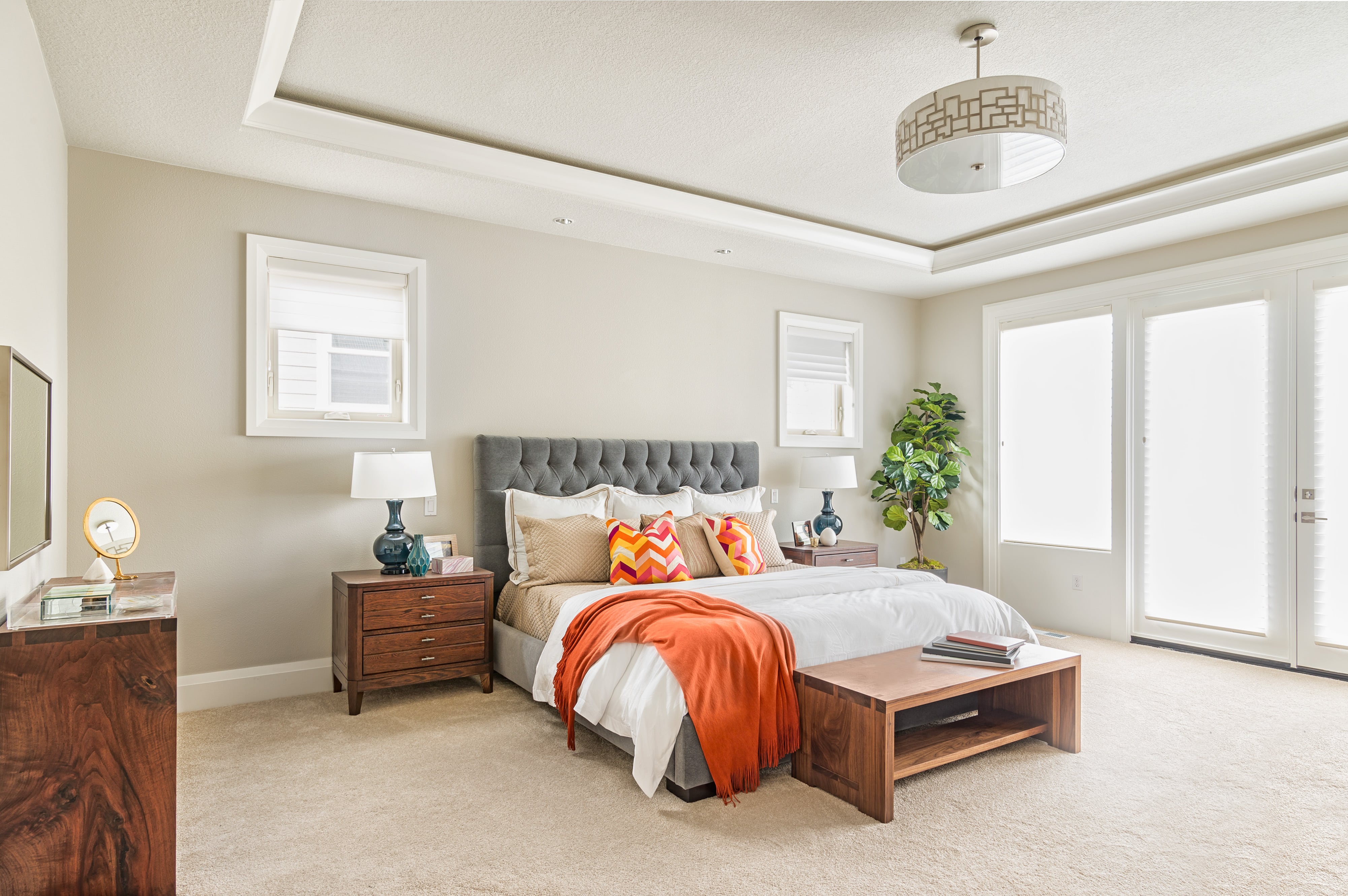 Ample space can allow for easy navigation through a room!
7 Solutions to Improve Your Loved One's Environment

To determine what modifications you need, explore the house as though you are a guest. As you walk around the space, ask yourself:
Is the purpose of every room clear?
Would a symbol or sign on the door be helpful?
What makes the room instantly recognizable?
Also, take note of anything that might cause annoyance or create an inconvenience, such as a stuck drawer, faulty fixture, or glaring lights. Solutions to these issues are often low cost or even free, such as repainting the walls or rearranging the furniture.

Once you have gone through the exercise, make sure you receive as much input from your loved one as possible. Then, make the adjustments to create a comfortable, understandable environment.
1. Improve visibility throughout the home.
As we mentioned in the previous section, the ways you use space can impact how someone makes their way through the house. Better visibility can make tasks easier and more intuitive. For example, place an outdoor garbage can in sight of the back door, or arrange your loved one's favorite chair so it provides a clear view and path to the bathroom.
2. Store items in accessible areas.
Ensure all items are stored where the average person would expect them to be, such as sheets in the linen closet or dry goods in the pantry.
3. Create signs, labels, and symbols.
Signs can make it easy to find an item and recognize the purpose of a closet, cabinet, or room. Take a decorative approach to signs by making them work with the rest of the decor.
4. Paint the rising side of the stairs a different color.
Taking color contrast into consideration, paint the rising side of the stairs a different color from the flat side to increase visibility and cue the desired action.
5. Distinguish the home from other houses.
Consider adding elements to the front of the home that easily distinguish it from other houses. This can be as simple as adding your loved one's favorite plant or flower to the front yard or selecting an exterior paint color that's different from other houses on the block.
6. Apply glazed or glass-front cabinetry.
See-through cabinetry will allow your loved one to quickly identify the objects inside. If a drawer has multiple items, consider labeling those as well.
7. Install double doors.
Double doors offer more space when entering a home and provide more visibility throughout the house.
Consider In-Home Services with WesleyLife
As you consider dementia care home decor, you also might find that your loved one could use a helping hand.

In-home services provided by WesleyLife can improve your loved one's quality of life through non-medical help around the house, such as clearing clutter, running errands, doing laundry, and much more. If you think your loved one would benefit from regular meal delivery or home health services, WesleyLife At-Home has a full network of services to explore, including Adult Day, which is available in Des Moines and Newton.
If you are wondering whether at-home services could benefit you and your loved one, take this short assessment to determine the most appropriate type of assistance.