The fact that exercise benefits people physically and mentally isn't news; countless studies have shown that exercise can improve your strength, balance, energy, mood, and cognitive function. Walking is an effective, low-impact exercise that works the cardiovascular system and burns calories. You can stroll and enjoy your surroundings or pick up the pace to increase the intensity of your workout.
Residents of Des Moines can access vast, beautiful landscapes that allow ample opportunity to enjoy outdoor activities both within and outside of city limits.
Whether you're starting a new walking habit or looking for new trails to explore, here are nine of the best walking trails in Des Moines.
1. Brown's Woods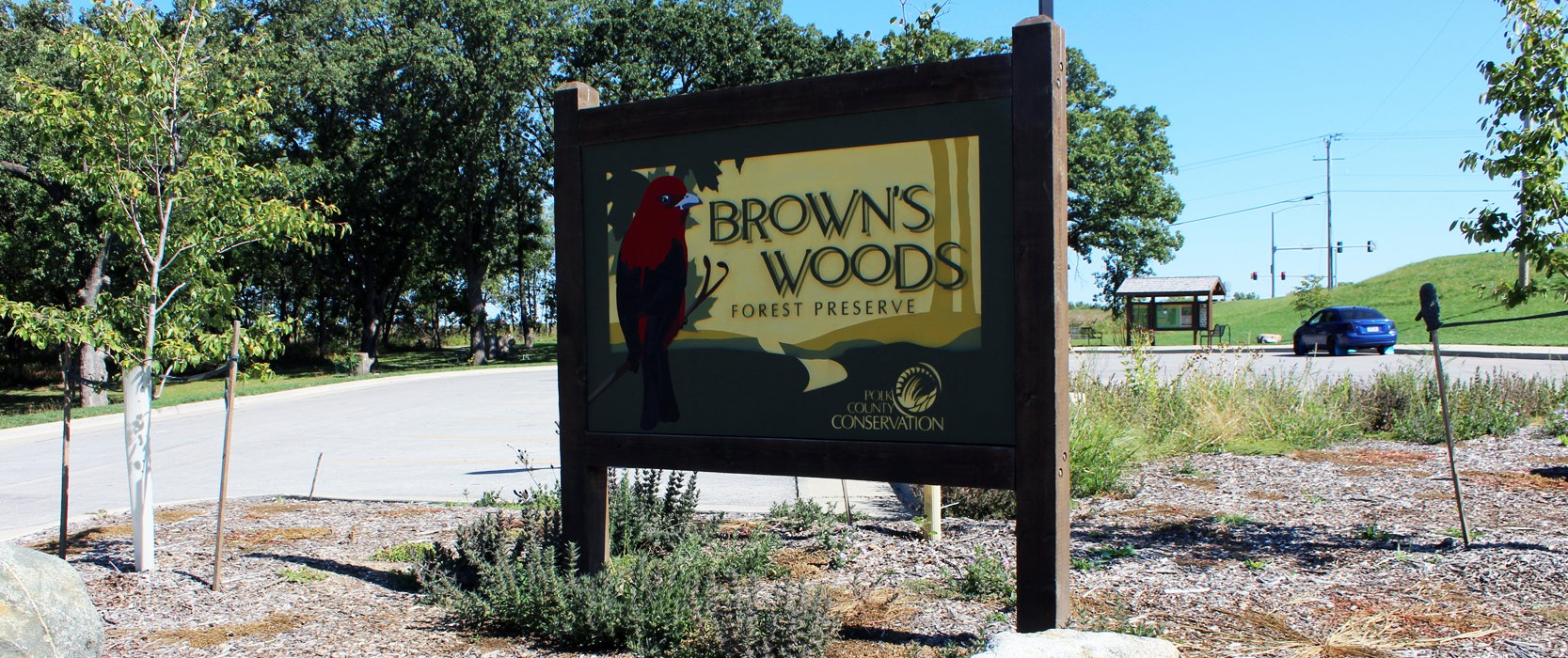 Located in West Des Moines, Brown's Woods is Iowa's largest urban forest, stretching over nearly 500 acres. Hikers can enjoy more than four miles of trails divided into loops.
For those who want a longer walk, the largest loop extends two miles into the forest, passing by the Raccoon River.
For short walks, the other loops range between 0.1-0.9 miles.
Regardless of its mileage, each trail winds through an expansive canopy of oak and hickory trees and over rolling hills and streams, which are a delight during any season.
2. Chichaqua Valley Trail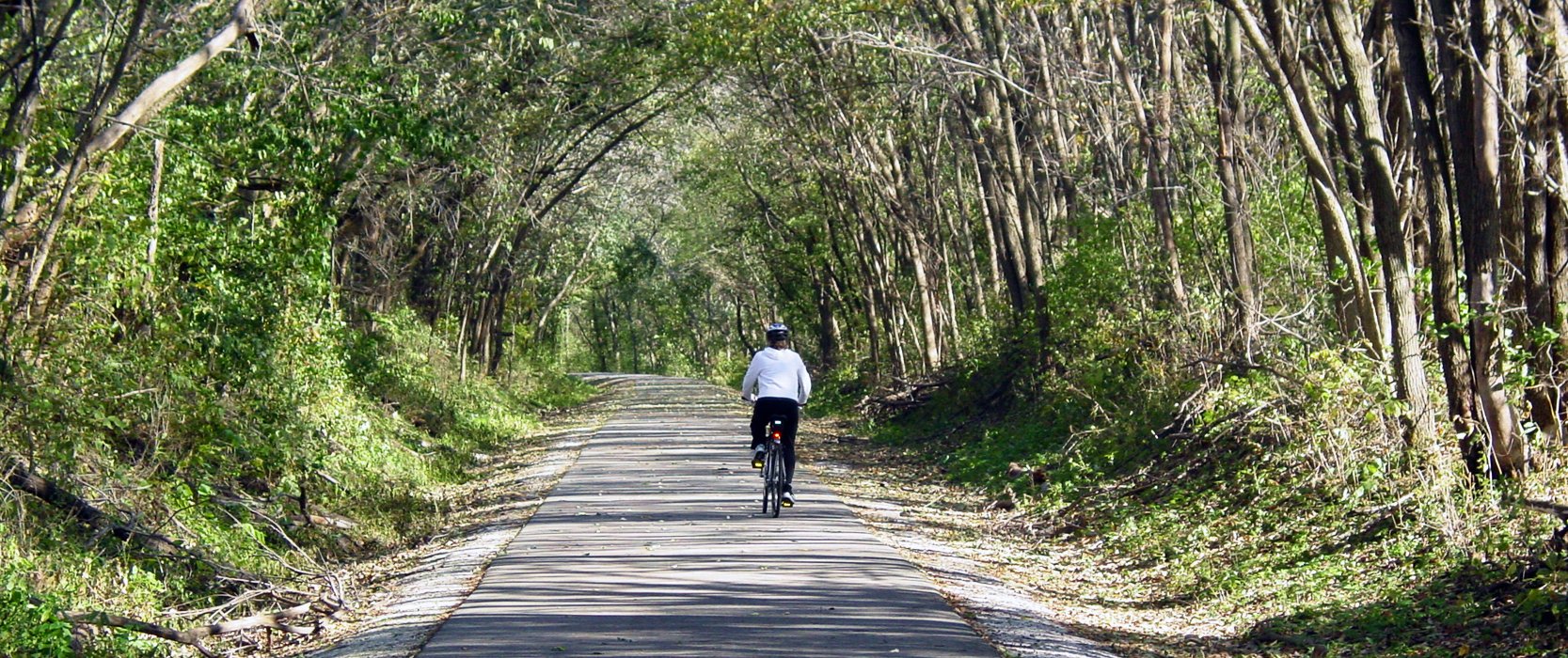 Driving about 20 miles northeast of downtown Des Moines, you'll find Chichaqua Valley Trail. This recreational trail is built on an abandoned railroad route and features a stone bridge dating back to 1885.
The trail is 26 miles long, cutting through towns and past parks, restaurants, and other amenities. Plus, multiple trailheads make it easy to walk shorter sections of the trail.
3. Easter Lake Park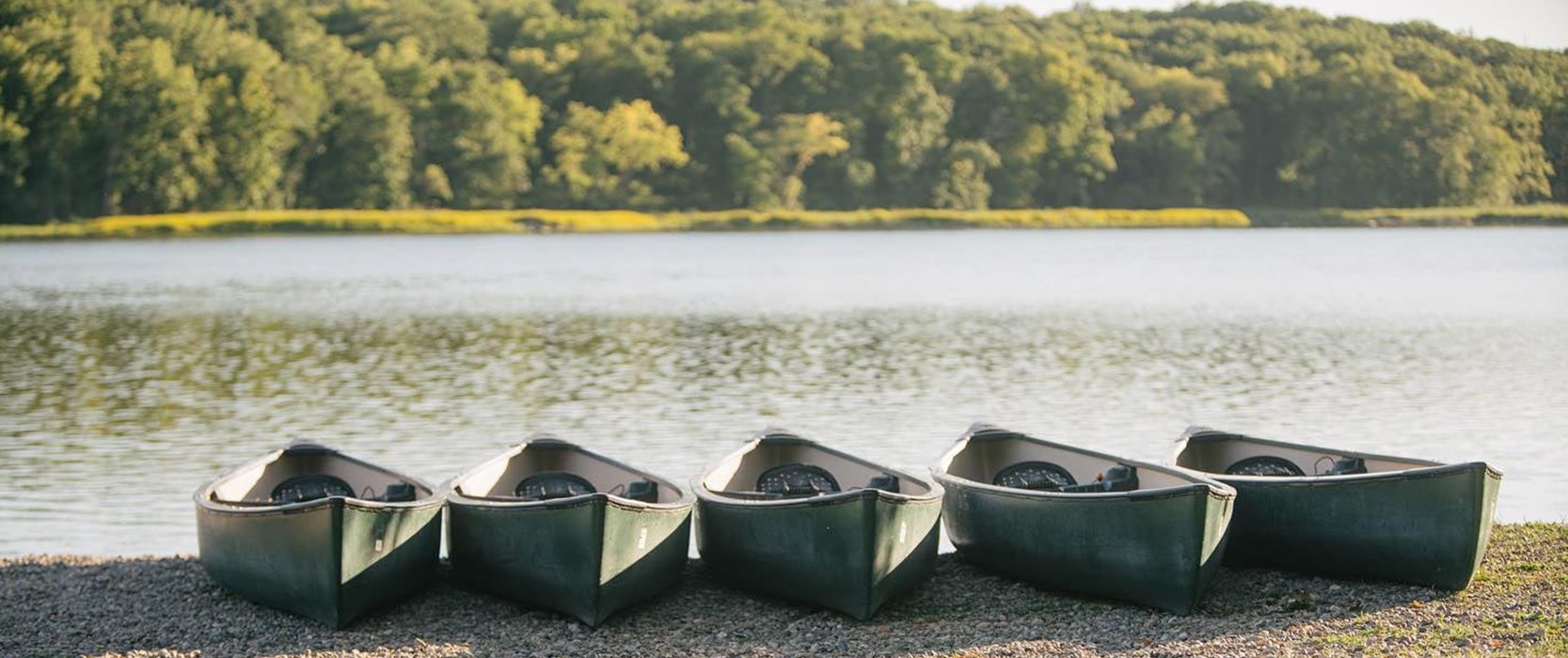 Located in south Des Moines, the trails of Easter Lake Park surround Easter Lake. The four trails accommodate walkers with varying distances and surface types:
Mark C. Ackelson Trail: 4.1 miles; hard surface.
Apple Orchard Trail: 0.2 miles; hard surface.
Wymore Trail: 1.4 miles; soft surface.
Songbird Trail: 0.1 miles; soft surface.
Regardless of the trail you choose, you'll find plenty of opportunities to take a seat and breathe in the fresh air coming off the lake.
4. Greenbelt Park and Clive Greenbelt Trail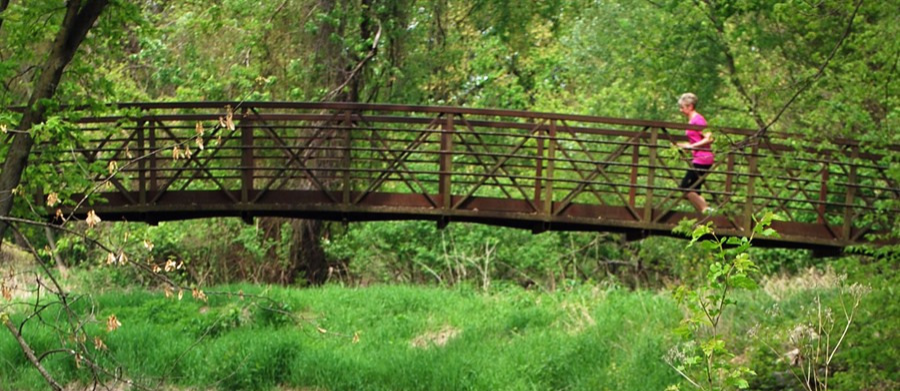 Located in Clive, Greenbelt Park connects to Greenbelt Trail, which provides just more than 11 miles of smooth asphalt trails perfect for walkers who can enjoy the heavily wooded surroundings. Wheelchairs and scooters are permitted on this trail.
Along this scenic route, you'll see the trail's iconic bridge, creek, and small waterfalls. If you want a meal, snack, or drink when you're done walking, you'll find several restaurants and pubs in close proximity to the trail.
5. Greenwood Ashworth Park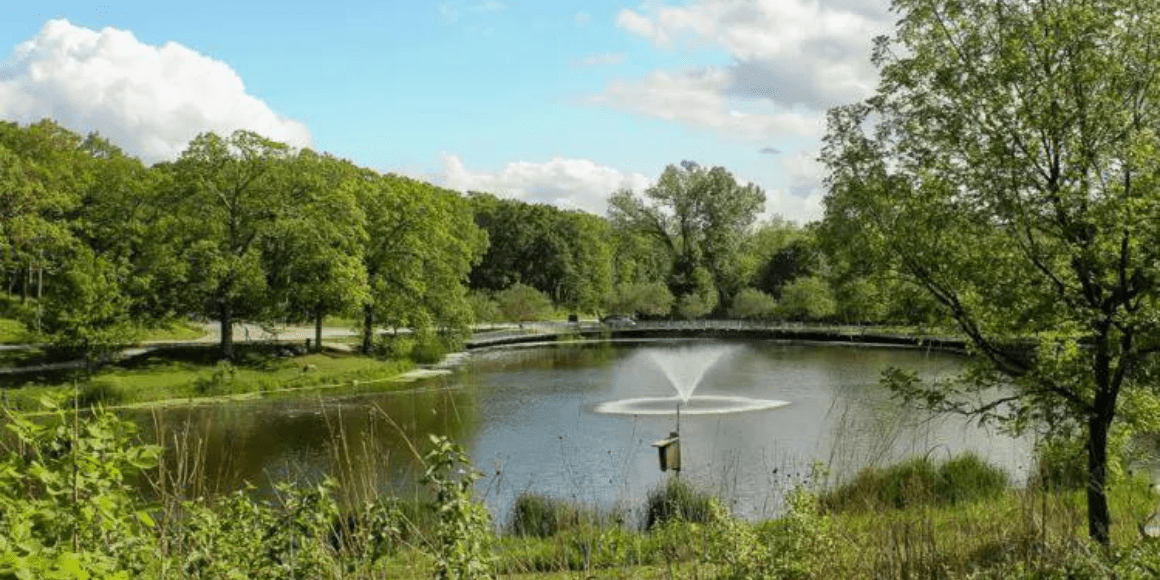 Located just over 3.5 miles from the center of Des Moines, Greenwood Ashworth Park provides plenty of outdoor recreational activities, including paved, gravel, and dirt paths for hiking, walking, or biking.
Walkers can choose among various paths, including the boardwalk and a gravel trail surrounding the pond. On the north side of the park, a paved path leads to the Claire and Miles Mills Rose Garden, featuring more than 2,000 roses across 4.5 acres.
For walkers who want to immerse themselves in the park's mature forest, the three main paths include:
Bill Riley Trail, a paved trail for biking and walking.
Walnut Creek Trail, a trail on the south end of the park that stretches for many miles.
Center Trails, which are singletrack dirt trails for more serious hiking.
6. High Trestle Trail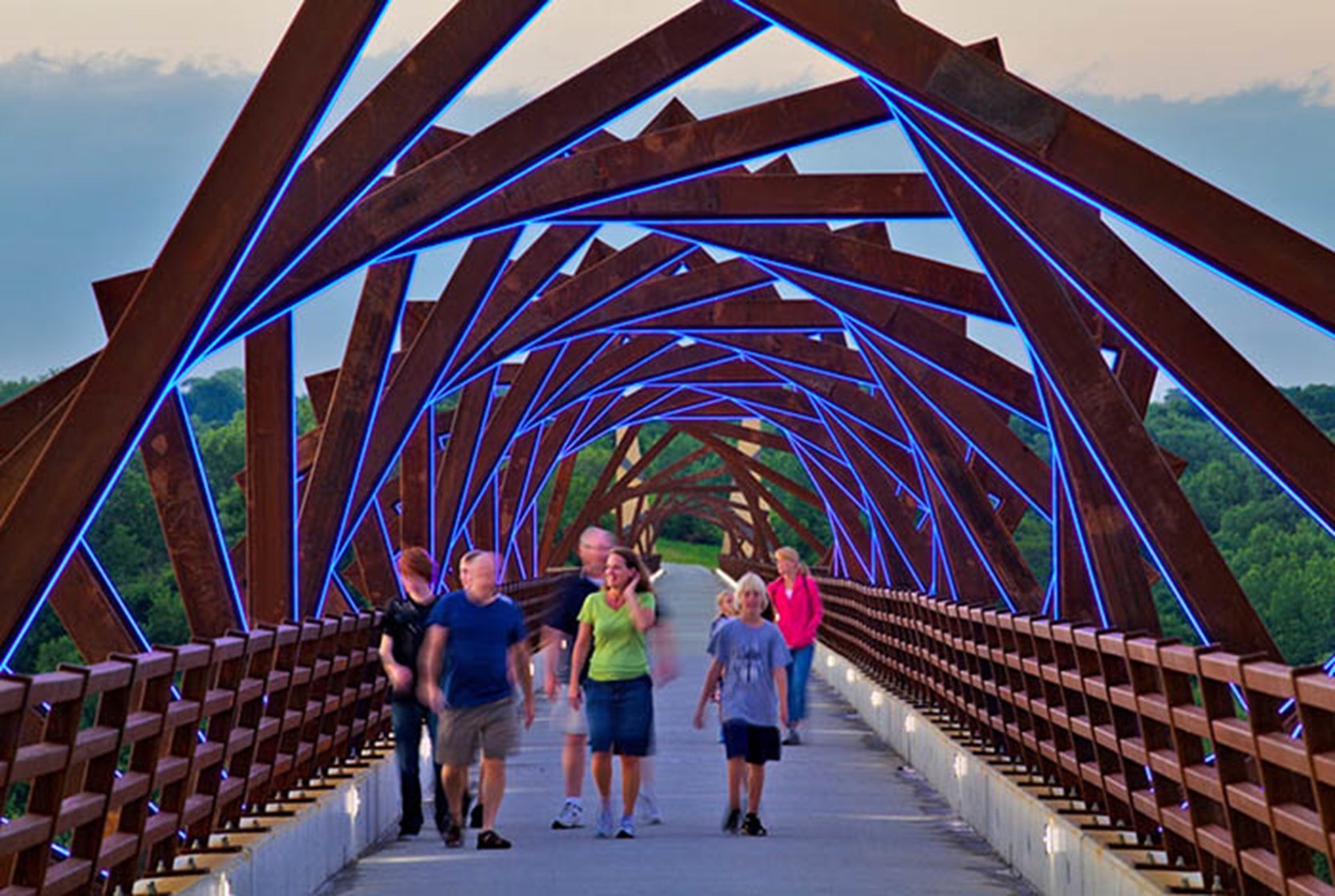 Considered a "rail trail," the High Trestle Trail is built on a decommissioned railroad. Although this trail runs for 25 miles through five towns, the biggest draw is the 13-story bridge overlooking the Des Moines River Valley. This bridge is one of the largest trail bridges in the world. In fact, in 2015, it was named one of BBC's "Eight Amazing Footbridges." Be sure to check out how the bright lights illuminate the sky after dark.
7. Lake District of Jordan Creek Town Center

A bit closer to home, the paved sidewalk around the Lake District of Jordan Creek Town Center provides an opportunity to stay active. A few strolls around the lake will give you a nice boost of energy. And if you're looking for more of a workout, you can jog up the steps of the amphitheater located on the north side of the lake.
As you walk, enjoy the feel-good music playing from the speakers around the trail or take a moment to feed the ducks and geese. Afterward, be sure to stop at one of the shops and restaurants on-site.
8. Principal Riverwalk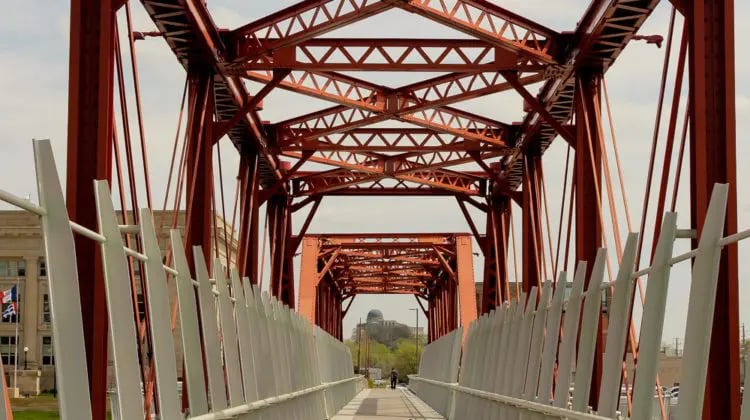 The Principal Riverwalk is another close-to-home trail. Located in the center of the city, the Riverwalk is a recreational park district along the banks of the Des Moines River.
The 1.2-mile trail forms a loop that connects the east and west sides of downtown. Along the trail, you will find the Greater Des Moines Botanical Garden, the Des Moines Art Route, Rotary Riverwalk Park, and access to hundreds of miles of trails.
9. Raccoon River Park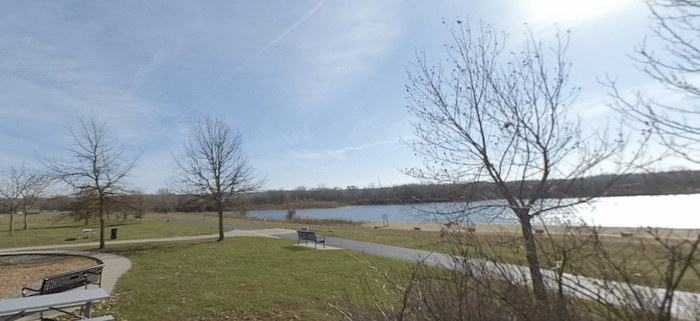 Considered the "crown jewel" of the West Des Moines Parks system, Raccoon River Park includes more than 630 acres of parkland and natural areas that attract wildlife.
Raccoon River Park features a 3.2-mile crushed rock and asphalt nature trail around Blue Heron Lake. Winding between the lake and Raccoon River, visitors can enjoy nature that isn't easy to find in most urban environments. This trail is perfect for leisurely walks and bike rides.
Des Moines Walking Trails: Closer to Home Than You Might Think
For residents of Wesley Acres — located on the west side of Des Moines — natural beauty can be found on campus. With gardens bursting with flowers, soothing fountains, and paved walking paths, you won't need to leave campus to experience beauty, health, and well-being. Plus, frequent walkers can enjoy access to the Furbush trail right outside their homes.
If you would like to learn more about living a healthy life, download your copy of "The Complete Guide to Healthy Senior Living in the Des Moines Metro Area."