"Eat the Cheetos."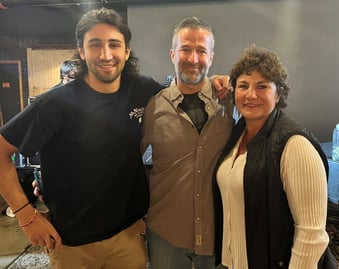 That advice may sound surprising when coming from someone who is celebrating a return to health after overcoming breast cancer. But a strength Janet Simpson has brought to her journey is her commitment to speaking in plain terms about an issue that some hesitate to discuss altogether.
Janet, Vice President of Operations for WesleyLife, was diagnosed in July 2021 with triple-negative breast cancer, one of the most challenging types of the disease for medical providers to treat. During months of treatment, including chemotherapy, surgery and immunotherapy, Janet shared her battle on this blog (see links below).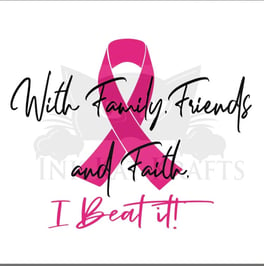 Now, to mark the ending yesterday of National Breast Cancer Awareness Month, we asked Janet -- who, after a double mastectomy, reconstruction, and treatments to bolster her immune system, recently was declared cancer-free! -- to share words of wisdom she's gleaned over the last year and a half.
We'll start with the Cheetos.
"When I was going through chemo, I didn't have much of an appetite, but Cheetos always sounded good," Janet recalls. "As a leader with a health and well-being organization and a lifelong athlete, I didn't feel great about Cheetos being my go-to -- but I needed to eat to keep my strength up, and to not worry about gaining a few pounds from junk food.
"So, if you're going through treatment and you're being hard on yourself about your nutrition, my advice would be -- don't be. Just eat the Cheetos."
The rest of Janet's advice is equally practical, but covers a bit more ground. She speaks about redefining priorities; as a busy leader with many direct reports and a list of accountabilities a mile long, she has worked nights and weekends as a matter of course. Now, she tries to focus more of her time on her family, on hobbies and pastimes that she hasn't paid attention to in a while, and on holistic well-being.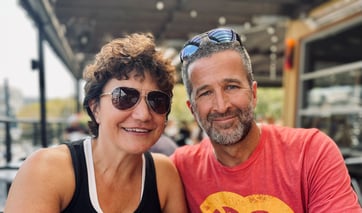 "When I was going through treatment, my husband, Travis, and I promised each other that we'd cut back on the time we spent working, and to tell you the truth, that hasn't been easy -- but I'm trying!" Janet says with a laugh. "I love my job and I still work hard, but I try to strike more of a balance.
"For instance, we are traveling more. I may start taking piano lessons again, and I've always loved art and haven't done much drawing and painting in a while, so I may start doing some of those things."
Although Janet's prognosis is good, with only a slight chance that her cancer will recur, she says she is also learning to live with a bit of anxiety about her health -- and advises others in that head space to give themselves grace about the way the feelings manifest themselves.
"Every ache and pain, I'll think, 'Oh, the cancer's back,' and I don't know if I'll ever get past that -- and that's OK," she says. "I'm a positive person, but I'm not perfect. I do my best to rely on my faith and keep living my life."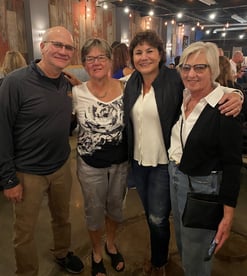 Most importantly, she says, she has learned to relinquish some degree of control, and to be more appreciative of everyday kindnesses. For others "wired" the way she is, Janet concedes those might not be easy changes to make.
"Like a lot of people who do what I do for a living, I want to control as much of the things I'm responsible for as I possibly can, and I've learned that it's OK to delegate and to not control absolutely every aspect of everything," she says. "And as someone who moves quickly, I didn't always take the time to say 'thank you,' even as I was thinking it -- to my husband, my family, my co-workers.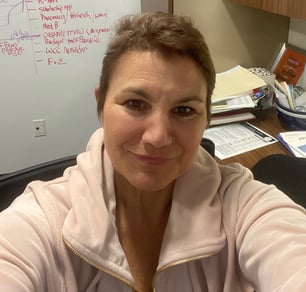 "The outpouring of support when I was sick was absolutely incredible. I think about that every day -- about my husband and family and their devotion. My siblings, my friends and also people who don't even know me that well -- how they reached out in really significant ways. I was overwhelmed by that and will spend every day for the rest of my life in gratitude."
Janet says that practically speaking, she also learned -- and wants to pass along as advice to anyone who might be reading this -- that living near a quality healthcare system cannot possibly be overrated.
"If you're considering retirement, think about whether the place you're considering has good healthcare nearby," she advises. "I got to know women during my journey who had to travel two and a half hours every day for treatment. I was so incredibly fortunate -- and with any follow-up needs, I remain so lucky that I have easy access to quality care."
Going forward, Janet plans to simply be grateful to God every day for her clean bill of health -- and to continue living her life one day at a time.
"I'd advise anyone -- as much of a cliche as it sounds -- don't think so much about the future," she says. "Whether you're not sick and have never been sick, are newly diagnosed, or are in the middle of a cancer battle, live in that day and manage that day.
"And if that includes eating a bag of Cheetos -- then so be it!"
Janet's Journey: Read it Here!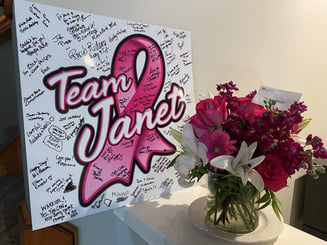 Click on the links below to view blog posts from last year that cover various aspects of Janet Simpson's cancer journey. The posts include a number of resources; please feel free to share with anyone you know who is fighting his or her own cancer battle.
https://www.wesleylife.org/blog/cancer-changes-things-but-i-can-still-live-my-life
https://www.wesleylife.org/blog/someone-you-love-has-cancer-when-you-dont-know-what-to-say
https://www.wesleylife.org/blog/health-well-being-and-cancer-caring-for-yourself-during-the-fight
https://www.wesleylife.org/blog/there-are-so-many-resources-that-you-will-never-have-to-face-this-alone
https://www.wesleylife.org/blog/as-surgery-day-approaches-hope-gratitude-optimism