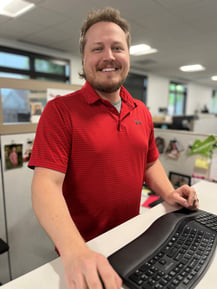 Today is National Senior Fraud Awareness Day. Regardless of your age -- let's refresh our awareness and help protect one another!
Bad actors and scammers commonly target older adults -- primarily because the perception is that older people aren't technologically savvy and likely will fall for fraudulent schemes. The guidelines below can help keep you from becoming a statistic!
1. Beware of tech-support scams. If you haven't requested assistance for your desktop, laptop, tablet, or phone, don't accept it -- even if the person reaching out says they're from a well-known organization such as Microsoft or Apple. The goal of these scammers is to persuade you to pay for services you don't need, or to allow access to your device. They'll reach out by email, text, pop-up, or phone, hoping you'll react to what they say is an "urgent problem" that must be fixed immediately. There is no problem; ignore them.
2. Look out for government imposters. Here's how this one works: Posing as representatives from the IRS or Social Security Administration, these fraudsters call, email, and or text and tell you they need your Social Security number to rectify a problem or facilitate a funds transfer. Don't fall for it; government agencies will never contact you by phone to ask for personal information. All such communications are sent via mail.
3. Don't let anyone access any of your accounts, period. Fraudsters send fake text emails or text messages claiming an issue with your bank account or a credit card. Their goal is to get you to click on a link they've sent so you'll voluntarily provide your personal information. If you don't personally know the sender, don't click any links in any message.
In addition, "grandparent scams" -- fraudulent schemes that involve telling you your grandchild is in distress and needs money -- are on the rise. Learn more about these scams and how to avoid them!
If you're a WesleyLife resident or client and a communication you receive doesn't seem right to you, please reach out to a team member at your location, or one who provides a service in your home. They can help connect you with our Information Solutions team (including friendly team members like AJ, pictured here!) who can help you evaluate the communication and stay safe.