Byron Christo used to call his WesleyLife Meals on Wheels driver by his first name, Doug.
Now Byron has a new name for Doug. He calls him "Lifesaver."
A few Friday evenings ago, Byron, who lives alone in a Waukee apartment, had taken a new prescription medication. He didn't know how the drug would affect him, but an hour or so later, his knees buckled.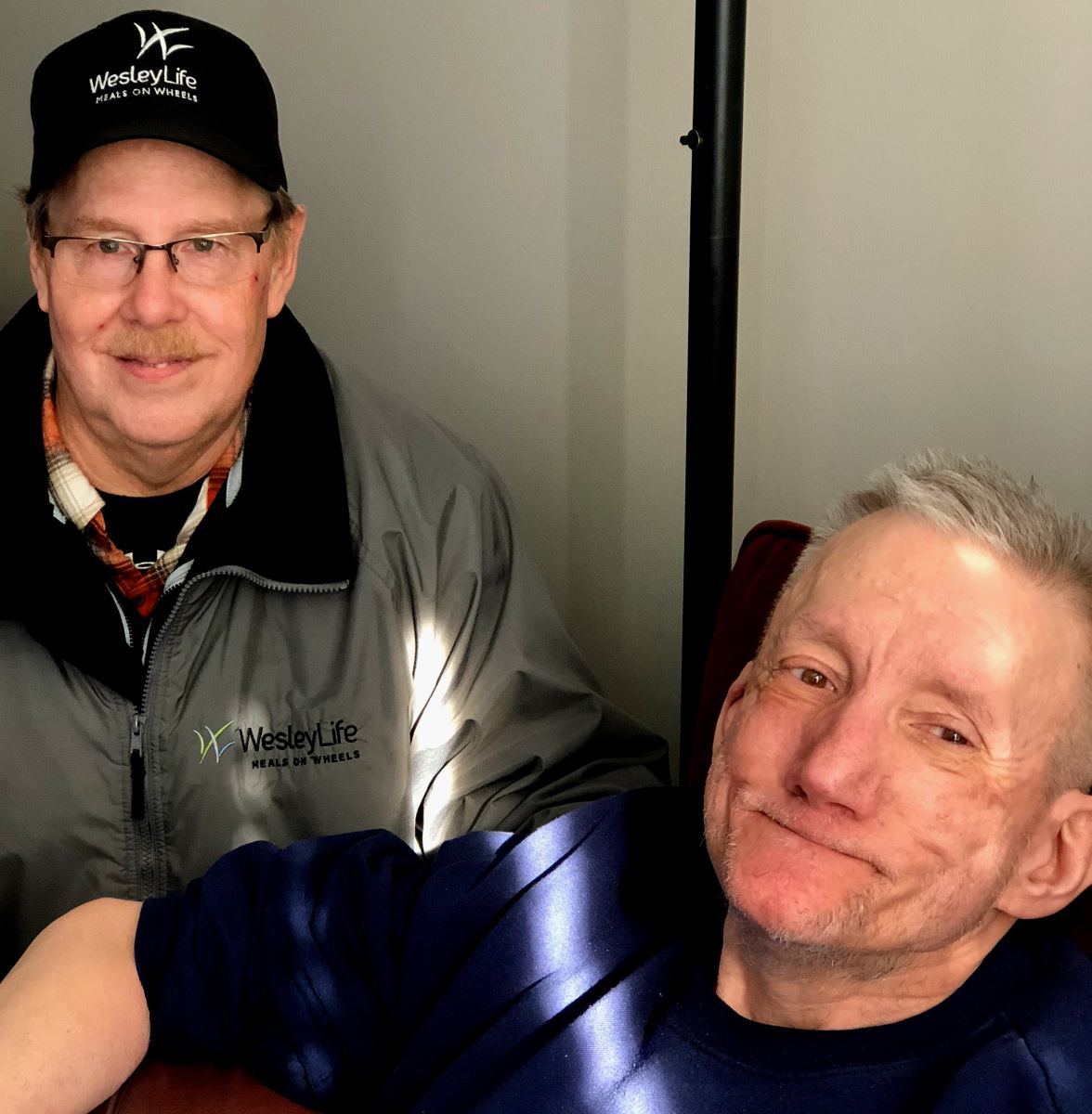 "I still don't know what happened, but I hit my head on the TV and was on the floor," Byron said. "I tried to grab on to different things to get myself up, but it just wasn't happening. I didn't know what to do."
Byron's phone wasn't within reach, and he doesn't get many visitors; the one he counted on -- driver Doug Stock -- wasn't scheduled to come again till Monday afternoon. So between half-hearted attempts to somehow boost himself up, Byron settled in on the floor, alternately sleeping and yelling for help.
"I wasn't really scared, but I was just kind of fading off," Byron said. "I wasn't sure what would happen to me."
When Monday came, Byron was severely dehydrated and disoriented. But he was coherent enough to yell "Help me!" when he heard a knock at the door.
"I went into automatic pilot and ran to get the building manager, and she dialed 911," Doug, who has been driving for WesleyLife for two years, said of the moments after he heard Byron cry out. "The paramedics came, and when they got in there, Byron was in bad shape. They took him to the hospital, and I hoped and prayed for the best."
Brett Peterson, Director of Community Nutrition and Transportation for WesleyLife, said unfortunately, stories like Byron's aren't all that unusual.
"We deliver hundreds of meals a day, often to people who don't have family or close friends around to check on them," Brett said. "For those folks, Meals on Wheels is a lifeline. We train our drivers to go in and do a welfare check, and how to respond if there's a problem. Doug did what he was trained to do, and as dehydrated as Byron had become, Doug most likely saved his life."
Byron spent a week in the hospital, followed by about three weeks in skilled rehabilitation. Fortunately, he didn't break any bones during the fall, but in addition to the dehydration, he suffered some bruising. He said now that he's home, he rests more than before and deals with muscle soreness, but he's grateful to be alive.
"That guy over there, he's my savior," Byron said, gesturing toward Doug. "I always knew I was grateful for my meals, but now I'm also grateful that he comes around and that he cares about me."
WesleyLife Meals on Wheels is part of WesleyLife's network of home- and community-based services, which also includes home health care, personal services, transportation, hospice care, Adult Day services, and public-health nursing. Meals are available on a sliding-fee scale. To inquire about meal delivery for yourself or someone you love, visit wesleylife.org, or call Pam at (515) 699-3243.