Support a
Veteran
Help combat food insecurity for veterans in need in Central Iowa.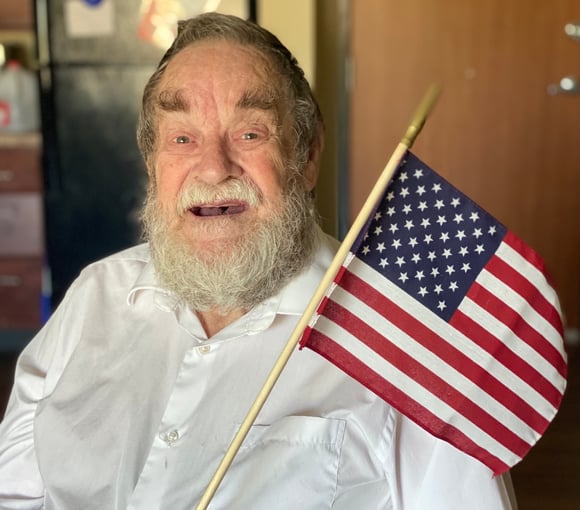 Help a food-insecure military veteran today.
WesleyLife Meals on Wheels assists military veterans of all ages in maintaining their health and independence. Our commitment to holistic health and well-being also prioritizes combating social isolation with drivers who are equipped to check on the well-being of each participant.
We are proud to offer these services to so many valiant individuals to whom we owe so much. For only $9 a meal, you can join the mission!
Our Community Need
---
150 Veterans
Meals on Wheels supports more than 150 Central Iowa veterans annually, yet the need is much larger and continues to grow.
7.4% Higher Risk
Veterans' risk of food insecurity is 7.4% higher than that of non-veterans.
$270 Difference
By donating $270, you can ensure a food-insecure veteran has access to a month's worth of meals.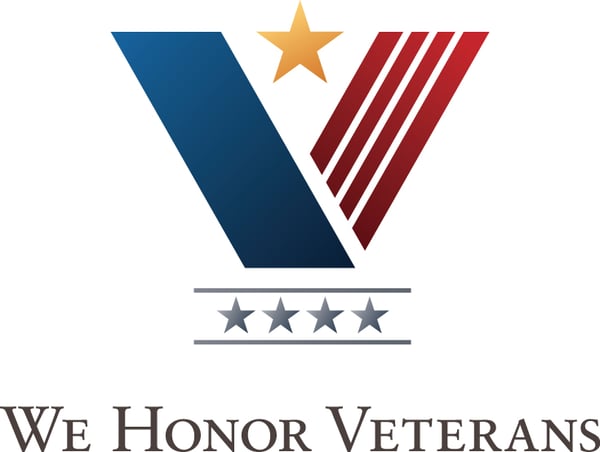 WesleyLife Honors Veterans
WesleyLife's commitment to veterans also extends to our hospice services. WesleyLife Hospice is a highest-level partner of We Honor Veterans, helping to provide the best end-of-life care to the veterans we serve and facilitating expanded training for hospice volunteers. In addition, we recruit volunteers who are or were in the military to allow special veteran-to-veteran connections to form.
Your monthly gift of $85 provides the medication costs for a veteran receiving hospice care.
Take a tour lorem ipsum dolor
--- Feature description donec ullamcorper nulla non metus auctor fringilla. Integer posuere erat a ante venenatis dapibus posuere velit aliquet. Vivamus sagittis lacus vel augue laoreet rutrum faucibus dolor auctor. Sed posuere consectetur est at lobortis. Optional learn more about lorem Feature description donec ullamcorper nulla non metus auctor fringilla. Integer posuere erat a ante venenatis dapibus posuere velit aliquet. Vivamus sagittis lacus vel augue laoreet rutrum faucibus dolor auctor. Sed posuere consectetur est at lobortis. Optional learn more about lorem Feature description donec ullamcorper nulla non metus auctor fringilla. Integer posuere erat a ante venenatis dapibus posuere velit aliquet. Vivamus sagittis lacus vel augue laoreet rutrum faucibus dolor auctor. Sed posuere consectetur est at lobortis. Optional learn more about lorem
"Aenean vulputate eleifend tellus. Fusce vulputate eleifend sapien. Fusce a quam. Vestibulum ante ipsum primis in faucibus orci luctus et ultrices posuere cubilia nisi quis porttitor congue, elit erat euismod orci, ac placerat dolor lectus quis orci. Nunc nec neque."
Serena Jones
CEO, Company Name
"Aenean vulputate eleifend tellus. Fusce vulputate eleifend sapien. Fusce a quam. Vestibulum ante ipsum primis in faucibus orci luctus et ultrices posuere cubilia nisi quis porttitor congue, elit erat euismod orci, ac placerat dolor lectus quis orci. Nunc nec neque."
Serena Jones
CEO, Company Name
"Aenean vulputate eleifend tellus. Fusce vulputate eleifend sapien. Fusce a quam. Vestibulum ante ipsum primis in faucibus orci luctus et ultrices posuere cubilia nisi quis porttitor congue, elit erat euismod orci, ac placerat dolor lectus quis orci. Nunc nec neque."
Serena Jones
CEO, Company Name
"Aenean vulputate eleifend tellus. Fusce vulputate eleifend sapien. Fusce a quam. Vestibulum ante ipsum primis in faucibus orci luctus et ultrices posuere cubilia nisi quis porttitor congue, elit erat euismod orci, ac placerat dolor lectus quis orci. Nunc nec neque."
Serena Jones
CEO, Company Name
"Aenean vulputate eleifend tellus. Fusce vulputate eleifend sapien. Fusce a quam. Vestibulum ante ipsum primis in faucibus orci luctus et ultrices posuere cubilia nisi quis porttitor congue, elit erat euismod orci, ac placerat dolor lectus quis orci. Nunc nec neque."
Serena Jones
CEO, Company Name
WesleyLife Foundation's EIN number is 88-2893273