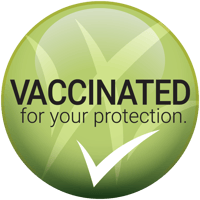 WesleyLife is proud to announce that as an organization, we have achieved 100% COVID vaccination compliance. As someone we serve or do business with, you might wonder what this statistic means to you.
Simply put: When you live or work with WesleyLife — or love someone who does — you can be assured that your safety, or the safety of your loved one, is our priority.
The "Why" Behind the Decision
WesleyLife announced several weeks ago that all team members and vendors would be required as of November 1 to be fully vaccinated, or to have completed the required steps to achieve a medical or religious exemption. As of that date, 100% of our team members had complied with the requirement.
The decision to require the vaccine was based on our belief in the safety and efficacy of the COVID vaccine as well as our responsibility to "do all the good we can for all the people we can." It was also based on our consistent adherence to the four pillars that form the foundation on which WesleyLife was built, and how those pillars shape every decision we make.
The requirement relates to our pillars in the following ways:

Well-Being: Committing to the health, safety, and holistic well-being of those we serve is a fundamental part of who we are.
Excellence: From leading the way in infection mitigation to being among the first providers to make the vaccine available, we remain committed to the health of our residents, clients, and team.
Heritage: We have always taken to heart John Wesley's advice to "do all the good (we) can," and we have a history of doing the right thing for the greatest number of people.
Innovation: Relying on science to help us implement best practices around COVID transparency, we established lines of communication to help disseminate current and reliable information that assists people in making informed decisions.
So, when you seek services from or employment with WesleyLife, or when you affiliate professionally with us, you can rest assured you're dealing with an organization that is willing to go the extra mile to commit to your health and safety. Learn more about our COVID protocols here — and stay well!