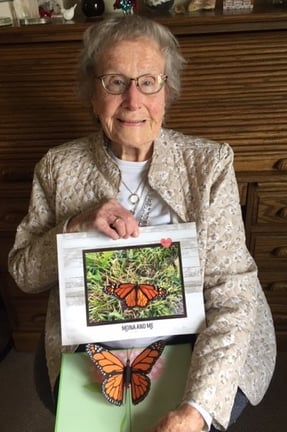 In addition to her late husband, her six children, their children, and their children's children, Wilma Hoekstra has had two loves: teaching and monarch butterflies. She combined all her objects of affection recently in a book she created as a legacy of love for her family and former students.
"I have 41 great-grandchildren and I'm 98 years old, so I'm not going to be around to see the littlest ones grow up like I was able to watch the older ones," Wilma, a resident at The Cottages, a campus of Hearthstone in Pella, says. "I wanted to create something they could remember me by -- something that would help them know me after I'm gone."
That desire to create resulted in "Mona and Me," a tale told from the perspective of a monarch butterfly. The story is a primer on how to raise the butterflies from caterpillars -- and how to let them go. A daughter helped Wilma publish the book and, after a first printing, she's had to order more!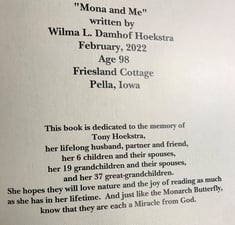 "Everyone seems to want them, which is a surprise to me," Wilma says. "Some people remember being my students and raising monarchs with me in the classroom. I'm so happy their memories of their time there are positive ones."
Wilma's certainly are. She went into teaching later than some, having spent years raising her own six children; she had earned a two-year teaching degree in the early 1940s from Central College in Pella and augmented that in the late '60s with a bachelor's degree in education, also from Central.

"My husband earned a teaching degree also, and he was at the high school and I taught first grade," she says. "We would say that I'd bring 'em in and he'd see 'em out! It was a very nice way to live and we both loved it."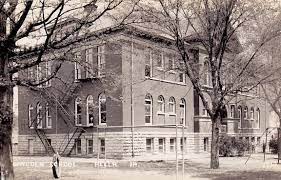 Wilma taught at Pella's "old" Lincoln Elementary, which was razed in 1995. In addition to the reading corner she created from the rainbow portion of a Tulip Time parade float and a clawfoot bathtub, she also became known for her lifelong love of monarchs.
"When I was growing up in Minnesota, I was a nature girl and loved to watch the monarch's process; it was such an example of the beauty of God's world," Wilma recalls.

"After I started teaching, my sons would bring me caterpillars and I'd set up a little shelf outside my classroom. The children and I would care for the caterpillars and watch them go through their phases, and we would all enjoy that miracle of life. Year after year, we all loved that experience."

In fact, the cozy world Wilma created in her classroom caused some children to not want to leave it; "they would say, 'Do I have to go to second grade?'" she remembers. "I would tell them how much fun they were going to have -- and that they could always come back and visit the butterflies."

It wasn't just the monarchs the children were seeking, though; Wilma says she deliberately modeled her classroom after a warm and friendly home where children would be allowed to be who they were, and to feel loved.

"Because I had been a mother who had loved being home with my children, I felt that my classroom should be a home for learning, not unlike a home for living," she says. "It was easier in those days because there was no technology; the children and I only had each other! I tried very hard to be a loving teacher, and seeing them happy was my reward."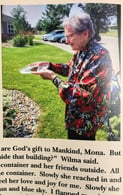 Wilma hopes her teaching -- and parenting -- philosophies will live on through her book.
"Passing along information with love -- that's what I hope people will take from this little story," she says. "That -- and what a beautiful world God has given us."