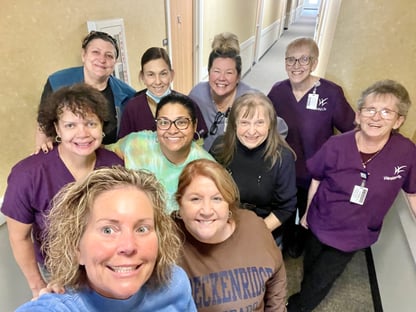 For Judy, it's all about the availability of a little extra assistance when she needs it -- and trusting others to help her.
Judy, 77, pictured here in the black turtleneck with members of her WesleyLife team, lives with her two Persian cats in Ankeny. Her two adult children assist her as often as they can with grocery shopping and other errands, but they can't be there as often as she needs support.
That's where WesleyLife comes in.
Since 2019, Judy has received nursing and non-medical services from the WesleyLife Public Health team. The team serves anyone 18 or older who is uninsured or underinsured and has a physical or mental disability that merits a need for support.
Judy receives services twice a week. Nurse Pam comes to check her vitals, visit with her a bit to make sure all is well, and organize her medications. Home-care aide Betty helps with light cleaning and organizing.
"They're almost like part of the family," Judy says. "I'd trust them with anything I have."
Judy says she was called on to be especially trusting recently when the WesleyLife team helped her see the wisdom in parting with clothing, household goods, and other possessions she was no longer using. A self-described "bit of a hoarder," Judy says she often feels compelled to hang onto things she no longer needs "in case I want them one day."
"I'm embarrassed to say they filled two dumpsters and it was hard to see that happen, but I'll tell you what -- that deep cleaning felt wonderful and was such a big relief," Judy says. "People have tried to get me to do that before but I know Pam and Betty care about me, and I appreciate that. So it's easier to trust them."
Judy says she often finds it difficult to listen to the advice of others -- but now she channels her WesleyLife team when she has a decision to make about keeping something or letting it go.
"I'll see that something is expired and I'll know that Betty would say, 'Now, Judy, that's too old, and you need to get rid of it,' so that's what I do," she says. "I appreciate her outlook and Pam's, too. I learn from them; I may know a lot of things, but I don't know everything."
Judy says she can't imagine living on her own without the assistance she receives from her caring "helpers."

"For one thing, I would be a lot lonelier without them, and they are just wonderful ladies," she says. "I would recommend them to everyone. I can't imagine why someone who isn't related to me would care about me this much."