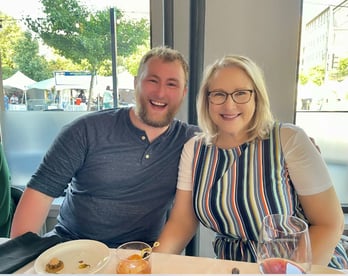 Today is National "Get Up" Day, an observation that offers opportunities to share inspiring stories of perseverance. Established in 2017 by Figure Skating USA, the spirit of the day stresses the importance of cultivating, maintaining, and enhancing resilience.
Amy Knight, Director of People and Culture for WesleyLife at Home, was forced to rely on her resilience a few years ago to lead her through a particularly rough patch.
Amy's life was going in a direction with which she was happy. Having put the upheaval of a divorce behind her, she and her son, Nate (pictured with her above left) were healthy, settled, and looking forward to the future.
But life intervened in an unexpected way, and a short time later, Amy found herself without a job. At that time, she had 18 years of high-level human-resources experience, and was shocked that she had been let go.
"I had been through a divorce and knew I could recover from that, and I had been through an earlier job loss, but at that time, I was married," Amy says. "We did OK without my full-time salary, and I started working part-time at a grocery store while I job-hunted.
"But this time, I had to figure it out on my own."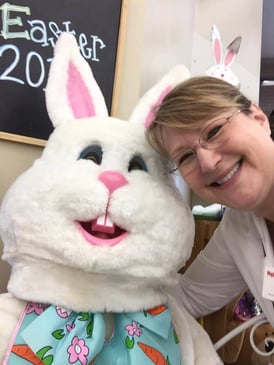 Amy headed back to her former Hy-Vee role -- a job she did enjoy, and that enhanced her social-media following, as fans enjoyed her "day in the life of a grocery-store employee" posts -- and started looking for another job.
"This time, it hurt a little bit more, because it had happened again so soon," she says. "And the job I had lost -- I really had loved that job. I thought I would retire from that job."

An HR job offer eventually came, and Amy took it -- but the salary was less than half of the compensation she had earned in the job she'd lost.
She worked that job plus her grocery-store job and kept looking for a better role -- but eventually, the cash-flow issues were too much to manage, and Amy filed for bankruptcy.
"I was so embarrassed, but I didn't have any alternatives left and I was lucky enough to have a good friend who had been through it to coach me and reassure me," she recalls.
Amy received a promotion at her new job, but still felt like the organization wasn't the right place for her. Another job came with another small increase in pay that allowed her to quit working at the grocery store, but Amy still felt like something was still missing.
In summer 2019, a longtime friend who worked for WesleyLife contacted Amy about a People & Culture leadership opening. Amy's curiosity was piqued.
"My friend had been there for a few years and spoke really highly of the mission and of the team I'd be working with," Amy says. "I knew she would be honest with me about whether I would be a good fit, as I was a bit shell-shocked by that time and wasn't thrilled about putting myself 'out there' and being rejected.
"But as I learned more, I knew I would feel challenged in this job, in a positive way -- and that I could bring my skills and experience to those challenges. Being part of a vision to transform the aging experience was inspiring to me. It still is! It's what keeps me going."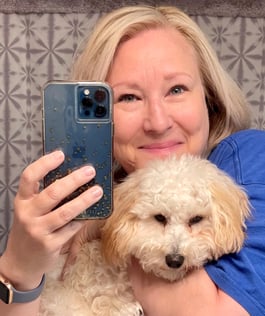 Today, Amy feels she has found her "forever" professional home. The work she does and the people she works with bring her fulfillment.
Personally, she's in a good place as well; she lives with her son, a healthcare professional, in a brand-new home she purchased shortly after starting her role with WesleyLife, and her life is filled with family, friends -- and a new puppy, Fred.
"I'm grateful for the challenges I've faced because they've brought me here," she says. "I know many people face much bigger challenges every day, and that's why I try to remember that everyone I'm talking with has a challenge in their life that I know nothing about.
"Giving others the benefit of the doubt and just being kind at least helps not add to their burdens."
Amy adds that her history makes her even prouder of the role she fills with WesleyLife.
"Across the organization, I truly believe that the work we do makes people's lives better every single day," she says.