Underwood Family donates 14-passenger bus to Heritage House in honor of former residents, Ray and Joan Underwood.
Residents, family members and team members gathered on the front lawn of Heritage House on Sunday, Aug. 24, for a late summer watermelon feed at the gazebo. Little did the crowd know, something soon would appear on the driveway that would quickly take center stage.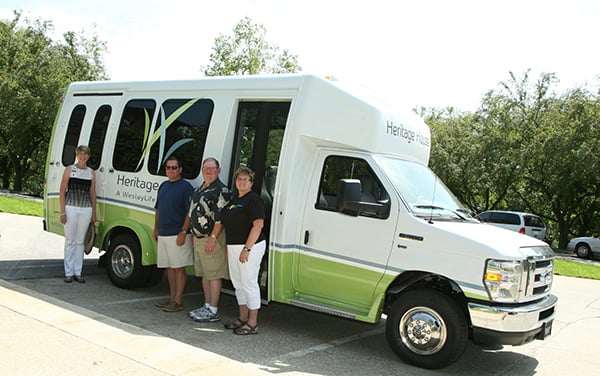 Pictured above (left to right): Karen Bentsen, Executive Director, Heritage House; Roger Underwood, son of Ray and Joan Underwood; Mark Underwood, son of Ray and Joan Underwood; and Patsy Wood, Marketing Director and Assistant Administrator, Heritage House; gather in front of the new bus the Underwood family donated to the senior living community in Atlantic, Iowa, to honor Ray and Joan.
As the afternoon melon feed wrapped up, a new custom built 14-passenger bus approached the group–a surprise gift to honor former Heritage House residents, Ray and Joan Underwood. "Our parents' lives were greatly enhanced by the Heritage House community, staff and interaction with other residents," says Roger Underwood, son of Ray and Joan Underwood.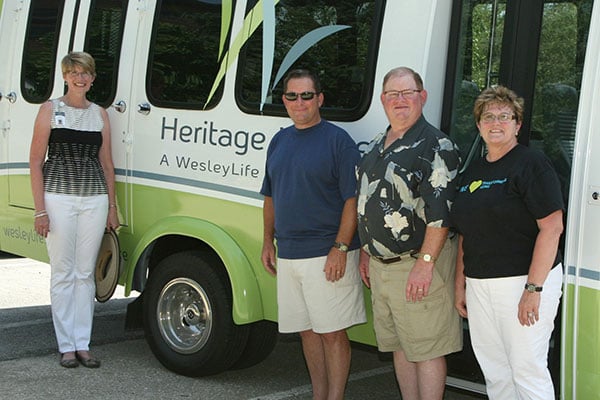 "Our family wanted to collectively enhance the lives of residents who will follow our parents at Heritage House and this bus seems to be something that is needed. The Underwood family is proud to step up and invest in our community by providing this bus—that is how Ray and Joan raised us," Roger concluded.
"This gift will enhance the active lifestyles of our residents" says Patsy Wood, Heritage House Marketing Director and Assistant Administrator. "We are grateful for the continued support of the Underwood family—first from their confidence in our services and now philanthropically through this gift."
"Ray and Joan were wonderful people and their legacy will live for years to come through this gift. The bus will even further enhance the active living we have here at Heritage House," says Mary Jean Faust, Heritage House resident. John Robinson, another Heritage House resident, shares the same sentiment as Mary Jean for the Underwoods.
"Ray was a dear friend of mine dating back to 1960 in the Walnut Grove days. Ray and Joan were an incredible couple. On behalf of Heritage House residents, we extend our gratitude to the Underwood family for this generous gift, we really appreciate it."
Ray and Joan were residents of Heritage House for a little less than three years. The new bus proudly displays the Heritage House name and logo and will be used locally to connect residents to lifestyle events in downtown Atlantic, and throughout Iowa for day trips as well as their annual resident vacation to Decorah. The bus features generous leg and head room, large windows for comfortable viewing and a sound system. The vehicle is also more accessible for all residents.