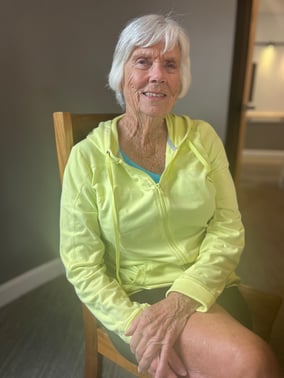 At 91, Vera Rogers would characterize her life as a happy one. And she credits something fairly simply for her outlook.
"I don't mind getting older as long as I still feel young -- and exercise keeps me that way," Vera says. "I started joining gyms when I retired, and here I am, living in a community with a beautiful fitness center.

"And you can ask anyone -- I rarely miss my exercise class! It's what keeps me going."

Vera -- winner of the organization-wide "Revolutionizing Aging" award during WesleyLife week in July for the way she illustrates continued growth and meaning in aging -- was one of the first residents at Brio of Johnston. She moved into an independent-living apartment when the community opened in 2018, and she quickly became an important part of Brio's "pioneer" group, taking part in activities and helping to make new residents feel welcome -- often by steering them toward exercise classes.

"I think a lot of what begins to bother people as they get older is that they sit around and think too much and too hard about things instead of working to stay busy," Vera says. "Not that anyone should stop thinking! But sometimes problems take care of themselves, so it does no good to be consumed with them.
"When I find myself doing that, I get up and move!"

Vera says she doesn't rely on exercise for weight management -- "the food here at Brio is far too good for that!" she says with a laugh -- but she credits it for her continued heart health, for good balance and posture, and for core strength. She takes vitamins every day, but no prescription medication, and she hopes to keep it that way! And the well-being team at Brio corroborates that Vera rarely misses an exercise class.
"Lifting weights is so important as we age, and it's also something I really enjoy," Vera says. "And I have always loved aerobics; I enjoy getting my heart pumping. The heart is like any other muscle, and it's good for it to work hard! And it just feels good, especially at my age, to feel that your body is strong."
Vera is definitely on the right track; a study published in the National Library of Medicine found that physical activity, defined as "any bodily movement produced by skeletal muscles that results in energy expenditure," continues to protect at any age against cardiovascular disease, stroke, diabetes, and some cancers, and is also associated with improved mental health, prevention of or delay in the onset of dementia, and improved quality of life and well-being.
The study goes on to say it's never too late to start exercising; it tells the story of a woman who started walking and doing chair exercises on her 98th birthday and improved her mobility so drastically that she walked in a 5K on her 100th birthday. (Make sure, however, to consult with your healthcare provider before beginning any exercise regimen.)
Vera credits her good health to other pastimes as well; she spends time with friends and family, and she partakes in happy hours and a Sunday wine group at the community; a fan of Merlot, she celebrated her 90th birthday in California Wine Country, glass in hand!

She also values the relationship she formed last year with another resident at Brio, a "very kind gentleman who is interesting and fun to be with."
"It's nice to have that companionship," she says with a smile. "We have our little routines and really enjoy spending time together."
Vera's advice for people who are having difficulty with the aging process?
"Make a decision to be a happy person," she says. "Realize that life is going to go on no matter how you feel about it. Join a class, listen to some music, and get your body moving. Soon, you might find that your outlook is changing."