"Oh, it was delicious," says Bill Hansen, a resident of The Village and retired career-educator, regarding the ostakaka, a traditional Swedish treat, made by Carlisle High School student, Marissa Johnson, and her mother, Susan.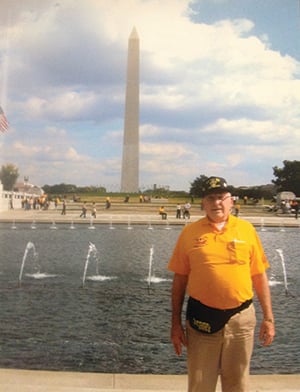 The Swedish custard recipe came up in conversation when Bill, Marissa and McKenna Haase, a classmate of Marissa's, met as part of the LifeBio® program, an engaging program being offered at The Village. The Village wellness director, Julie Schrader, initiated the program at the community located in Indianola based on a successful program at Edgewater, a WesleyLife community in West Des Moines.
LifeBio provides the framework to capture life stories. Students in the talented and gifted program at Carlisle High School used the structure of the program to ignite conversation with Bill along with three other residents of The Village—Roy Hampton, Dorris Currier and Roy Moss.
Once they were connected, one of the first questions the students asked Bill was regarding his ancestry. The initial question was followed up with asking if his family enjoyed any traditional foods. "I replied ostakaka, which is a cheesecake," Bill said.
Next, one of the students took out her cellphone and asked Siri to "define ostakaka." Siri wasn't able to provide an answer.
During the next week's visit, Bill provided an ostakaka recipe belonging to his wife, Leatha, and gave it to the students. The last week the students came to visit The Village, they brought ostakaka. With the help of her mom, Marissa Johnson was able to define and prepare ostakaka— something technology couldn't.
The students also asked questions regarding Bill's younger years, which included attending school in a one-room school house and serving in the Army during World War II—experiences these high school students typically learn about only in textbooks.
In a world consumed with screen time—smart phones, tablets, video games, and TVs—the program also teaches young people the skill of having face-to-face conversations. "What we witnessed was LifeBio bringing these two very different generations together, promoting communication and strengthening relationships," says Julie. "The ultimate result is an improved quality of life, not only for our residents, but for the students. And that's pretty cool. "
The project wasn't exclusive just to the past. "If our future includes the traits of these students, I'm not worried about our future. They'll probably do a better job than what we did," says Bill.