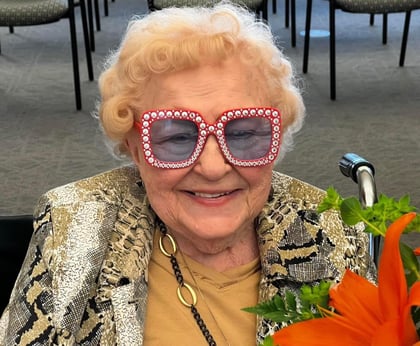 Betty Osincup's secret to a great life at the age of 103?

"First, tell everyone you're 103!" she says. "Don't try to hide it. Age is a state of mind. You are as young as you feel."

It's clear that Betty, a resident at Halcyon House, a WesleyLife Community in Washington, is young at heart. She turned 103 yesterday and was celebrated with a party in her honor; a friend gave her the Elton John-type glasses she sports here.
She resides in independent living, does her hair and makeup every day, and looks forward to playing dominoes on Fridays.
She's happy with her life — "happy to still be kicking around," as she puts it — and she values her relationships with others at Halcyon House and in the greater community, with her family, and with God.
"He's on his throne and in charge of everything," she says. "And it's great to know that, because then the rest of us don't have to worry."
Betty has lived an eventful life; at age 11, she sang the theme song to the Little Orphan Annie radio show at the beginning and end of each broadcast – live. She was already a part of a singing-and-dancing troupe that performed Vaudeville-style shows, and when a friend suggested the two of them audition to sing the theme, Betty agreed.
They were selected for the gig, and the two little girls rode the bus each Saturday from the outskirts of Chicago into the city to sing the song, then headed back home at night.
"It was a different world then," Betty says. "Children couldn't do that now. But we never had a problem and it was a lot of fun."
Betty went on to attend Cornell College in Mount Vernon, where she met Herb Osincup; they eventually transferred to the University of Iowa, where he earned his pharmacy degree and she earned one in social work.
They married, settled in Washington, and raised four daughters. Betty stayed busy parenting her girls while continuing to perform here and there with her husband, who also sang. Through the years, she served as an active part of the greater community.
Betty and Herb moved to Halcyon House 21 years ago. Herb died in 2004, and Betty continued to live a vibrant, active life, fully integrating herself as a leader on campus.
She rarely misses an activity at the community, and three of her daughters and their families live nearby and frequently take her out for meals and to enjoy performing-arts activities in and around Iowa City.
Betty also maintains lifelong health and well-being habits that she feels have contributed to her longevity; she tries to stay balanced nutritionally (with an ice-cream treat every now and again), and although she uses a scooter to get around, she strengthens her legs with the help of physical therapy.
"Living here at Halcyon House definitely helps me live a better life; there are people who come and help me with the things I need help with, and I don't have to cook anymore; I normally go eat with everyone, but when I don't feel like it, they deliver my meals and that's nice, too," Betty says.
All in all, though, if Betty were to drill down to one piece of advice to help someone live a longer, healthier life, it would be this:

"Just remember to always be kind," Betty says. "Be kind to everybody -- even if they're not being kind to you. You do not know unless you walk in someone else's shoes why they are the way they are. Don't judge -- and always tell the truth. That way, you never have to worry about being caught up in a lie."
She also has some solid general advice -- aimed, she says, at anyone who's reading this:

"Get your face of your cell phone!" Betty says. "Have dinner with your family. Talk to your family. Go on vacation with your family. You won't regret it!"