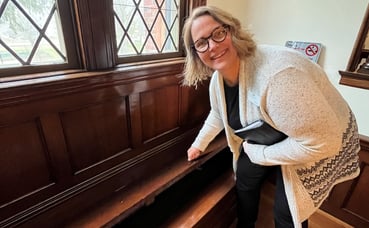 National "Get Up" Day, observed on February 1, offers opportunities to share inspiring stories of perseverance. Established in 2017 by Figure Skating USA, the spirit of the day stresses the importance of perseverance and resilience.
Amy Bassett, Sales Director at Wesley Acres in Des Moines, personifies the spirit of the observance. For three decades, Amy has been impacted by mental-health struggles in her family. But not only have the challenges made the family stronger; they've resulted in Amy's appointment to a volunteer post that allows her to make a real difference in the mental-health space.
Amy spent yesterday at Iowa's state capitol building, advocating as a representative of the National Alliance on Mental Illness (NAMI) for more effective processes and treatments for people who live with mental illness. According to NAMI, 1 of 5 people in the United States experiences a mental illness in any given year.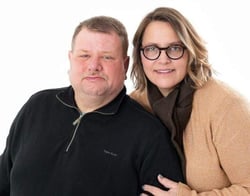 Although Amy has not struggled with her own mental health, her husband and two children have experienced a variety of difficulties that have resulted in years of worry and upheaval to their family. Her husband, Greg, whom Amy praises for his bravery, was prevented from working for many years by his mental-health difficulties, which include anxiety and depression; their children have also been impacted by depression and anxiety as adults.
"At one time, my husband and daughter were hospitalized at the same time," Amy recalls. "For many years, a big part of our life together has been about helping my husband – and later, our children – push through and get the necessary and effective treatment, and as anyone who has struggled with mental health knows, that is far from easy.
"Now, thankfully, after so much hard work and so much treatment, everyone is in a good place. We are a very strong, tight family unit, and we will always be here for each other. It's no different from if members of my family had cancer or diabetes. Of course I am going to be here for them and fight for them.
"There is a stigma around mental health, but it's getting better."
The decrease in stigma is, in fact, due to people like Amy. As a caregiver, she learned the importance of self-care, and one way she filled her own bucket involved attending NAMI meetings.
"Ever since my husband started having his challenges, I knew I would someday be involved with NAMI," Amy says. "I had used them as a resource to educate myself and my family, and a year ago I reached out to them and said, 'What can I do to help? How can I volunteer?'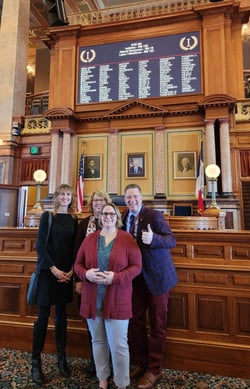 "They started inviting me to the Advocacy Committee, and I signed up to help lobby legislators at NAMI on the Hill. It gave me so much energy. From there, I was asked to be chair of the committee. I am beyond honored to help in this way."
As Amy thinks back over her family's 30-year mental-health journey, she says there were days it was indeed hard to get out of bed — but she did, day in and day out, because she knew not only that her family needed her, but her employer did as well. Amy has worked for WesleyLife for many years in a variety of capacities, beginning her career in direct care as a Certified Nursing Assistant and working her way to her current role.
"I know how this sounds, but truly, I believed in the WesleyLife mission from Day One, and that helped me put one foot in front of the other," she says. "Of course, I needed the paycheck. But far beyond that, our residents needed me. My fellow team members needed me. And now, I'm needed to help showcase our amazing community and let people know how moving in here can do wonderful things for their lives."
Amy credits WesleyLife's focus on holistic well-being as well as her leader, Wesley Acres Executive Director Damon Buskohl, for helping her stay healthy as she continued to practice resilience and be available to her family.
"Our focus on well-being doesn't just mean physical fitness; mental health is a big part of our focus, and I have been so, so supported in caring for my family while working," Amy says.
"Let me tell you – if you are out there reading this and are looking for a job, you need to put in an application with WesleyLife right now. When they say 'family first,' they mean it. And as long as you find a way to get the work done and are conscientious about your job, they absolutely will have your back."
When asked for her advice in helping others develop and maintain resilience in difficult situations, Amy says she chooses to focus on ways we can all help one another survive, and even thrive, through difficulty.
"Be kind to each other because you never know what someone else is going through; you have no idea how much of a difference it can make when you are struggling and someone says, 'You matter," or even 'You looks so nice today!' Appreciate each other."
She says it's also important to remind people that "being not OK is OK."

"It's OK to say, 'I need some support; can you help me?'" Amy says. "We are all here on this Earth for one another. Let's do what we can."
If you are looking for a mental-health resource, Amy suggests visiting the NAMI website, nami.org, which can help connect you to local assistance. If you are experiencing a mental-health emergency, call 988, the National Suicide and Crisis Hotline.