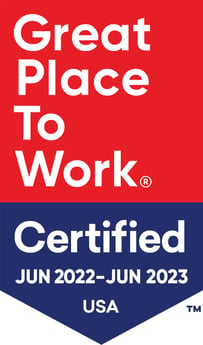 For the fifth year in a row, the Great Place to Work Institute has designated WesleyLife a Great Place to Work®!
Great Place to Work is an independent research and consulting firm with a certification process that considers more than 60 elements of overall job experience via surveys distributed to team members. The majority of WesleyLife's team members completed the multi-page digital questionnaire, sharing thoughts about several aspects of the organization's employment experience.
This year's survey revealed, among other metrics, that nearly 9 of 10 WesleyLife team members consider the organization a Great Place to Work. WesleyLife also tallied scores of nearly 100% in areas such as diversity, inclusion, and belief that one's contributions make a difference to the organization.
"Our certification as a Great Place to Work® is a testament to our team members' passion for enhancing our culture, and their devotion to our residents, our clients, and one another," WesleyLife CEO Rob Kretzinger said.
"As we head toward our 75th anniversary this summer, this designation is especially resonant and highlights how our team members feel about their roles in the important we do as an organization. I'm happy for and proud of our team members, as this certification is truly a reflection of their dedication and commitment."
Read Rob's announcement to team members below.
Dear Team Members:
I am delighted to share with all of you that for the fifth year in a row — a wonderful milestone! — the Great Place to Work Institute has honored WesleyLife as a Great Place to Work®.
Heartfelt thanks to all of those who provided feedback that helped us achieve this honor. The vast majority of you consider WesleyLife a great place to work — a reflection of the talents, commitment, and dedication that YOU bring to this organization as you live out our mission and illustrate it each day for the benefit those we serve.
As in past years, you will hear from your leaders about the ways we'll use your feedback to make WesleyLife an even stronger organization. Our goal in surveying you is always to make your workplace experience even better, make our connections even more meaningful, and make you even prouder to be a part of this organization.
As we prepare for WesleyLife's 75th anniversary, this designation is even more resonant. I am grateful to work alongside you, and I offer each one of you my congratulations.
If you're interested in learning more about everything that makes us a Great Place to Work, visit
wesleylife.org/careers
today and consider joining a truly GREAT team!