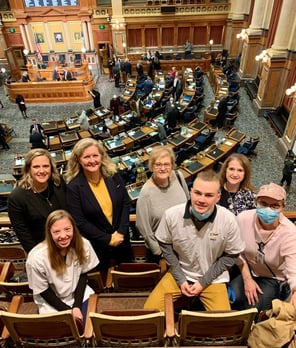 WesleyLife was honored to be mentioned in Iowa Gov. Kim Reynolds' Condition of the State address this week. The governor praised the organization -- specifically Hearthstone, a Ministry of WesleyLife in Pella -- for its participation in a registered apprenticeship program that helps young people become patient-care professionals.

The program -- one of several pathways offered through WorkSMART Connector, a collaboration of educators and employers in Marion County -- prepares students for medical careers beginning in high school. Apprenticeship certification can be achieved in less than one year after high-school graduation as participants earn while they learn, with options to pursue a Bachelor's of Science in Nursing (BSN) degree within three years post-high school, or pursue both BSN and Bachelor of Arts (BA) degrees in four. Qualifying apprentices also gain automatic and quick entry into these local nursing programs.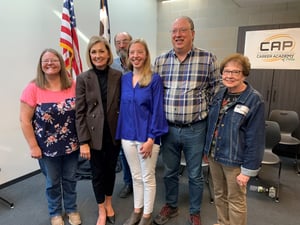 In November 2021, the governor first recognized Hearthstone for its participation in WorkSMART and the Patient Care Apprenticeship program, and praised Marie VanderWilt, Hearthstone's first participant in the program. Marie completed the first portion of her apprenticeship with Hearthstone, becoming a Certified Nursing Assistant, and moved on to Pella Regional Health Center to gain experience in additional areas of healthcare.
In announcing an expanded apprenticeship program, the governor included the following remarks in the Condition of the State address, after which Hearthstone team members were recognized with a standing ovation: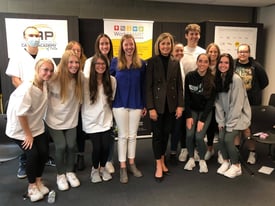 "In Pella, the high-school Career Academy recently launched a patient-care registered apprenticeship program that offers students hands-on experience in a variety of medical settings, while at the same time earning a wage.
"Before they even leave high school, these students can become a certified nursing assistant, and then qualify to work as a lab or surgical technician. And within a few short years, they can go on to become an OB tech, RN or BSN — all while being paid.
"This innovative approach, and the public-private partnerships that make it possible, are what Iowa's education and healthcare systems need. That's why we're launching a new healthcare registered apprenticeship program that will provide funding to at least five communities to scale what Pella has done.
"Marie VanderWilt, the first apprentice in Pella's program, said that getting hands-on experience in healthcare gave her a new appreciation for this career path. She told me, 'the job isn't always easy but I get to leave work each day knowing that I made a difference.'
"Marie, along with her instructor, Kay Landon, and the program partners from Pella Regional Hospital and Wesley Life are with us tonight. Let's thank them for leading."
Thank you, Gov. Reynolds, for recognizing WesleyLife for innovating in the service/care arena for the benefit of those who place their trust in us. And congratulations to Executive Director Nancy Hamilton and the Hearthstone team. We are proud of you!