As a health and well-being organization, WesleyLife is committed to helping to make the second half of life the best half for all who seek our services. One of the ways our wellness teams do that is via Rock Steady Boxing, a nationally recognized boxing regimen designed to improve symptoms in people with Parkinson's disease.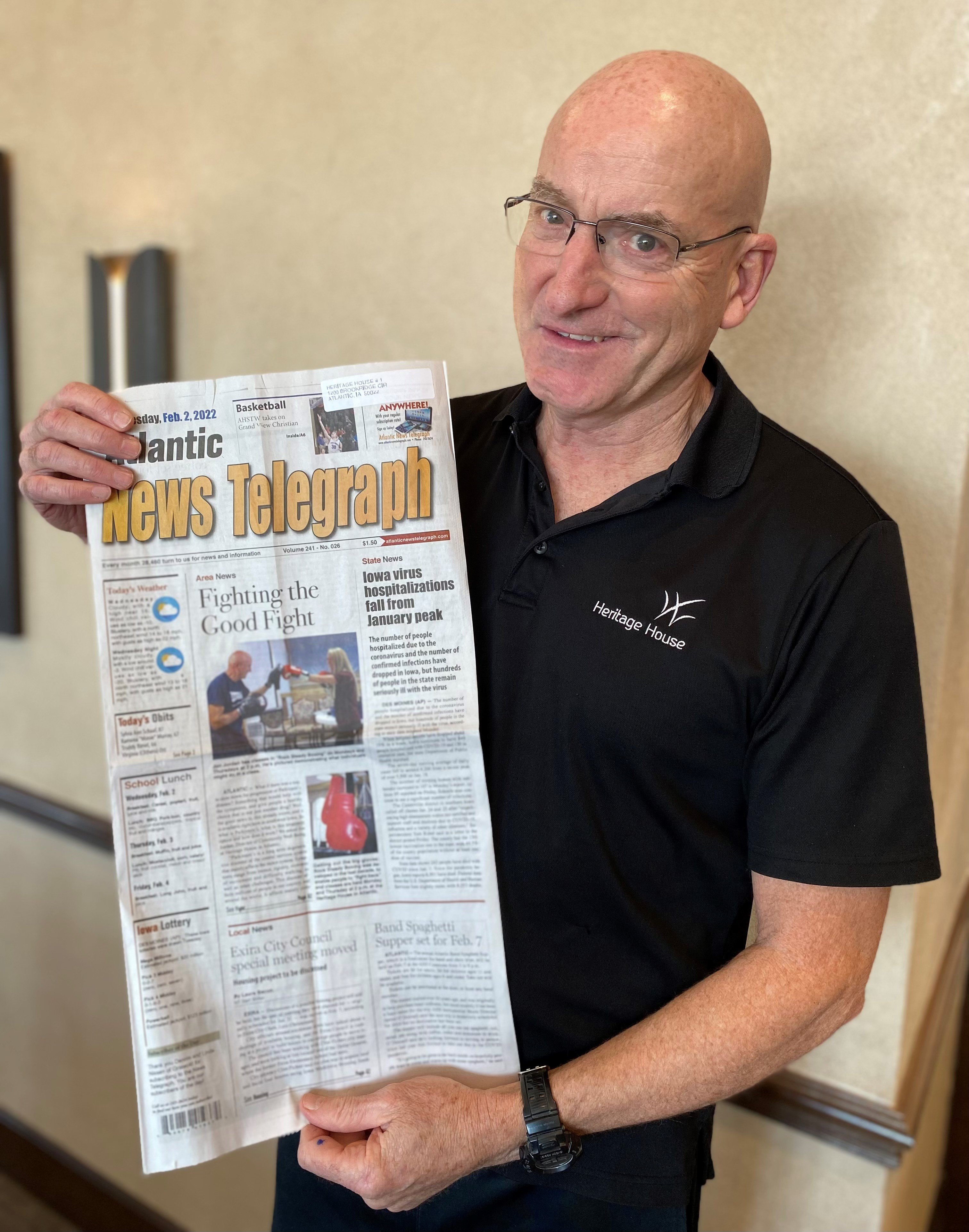 Jon Jordan, Wellness Director at Heritage House, a WesleyLife Community for Healthy Living in Atlantic, was instrumental in implementing Rock Steady in western Iowa, and has demonstrated a commitment to the curriculum that has assisted countless individuals living with Parkinson's. Recently, Jon (pictured here) was interviewed about Rock Steady by the Atlantic News Telegraph, and we're sharing the article below. Thank you, Jon, for your commitment to health and well-being for all!

***
Fighting the Good Fight Against Parkinson's Disease
By the Atlantic News Telegraph
What if there was a way to slow down the progression of Parkinson 's disease? Something that would help with the symptoms, and give people a healthy choice that is not just another drug? Well, the good news is, this already exists, and it is available right here in southwest Iowa. So what is Parkinson's, what is this treatment option and how does it work? We asked Jon Jordan, Director of Community Well-Being at Heritage House in Atlantic.
"Parkinson's is a long term degenerative disorder of the central nervous system that mainly affects the motor system. Symptoms range from tremor, rigidity, slowness of movement and difficulty walking, as well as other challenges. This disorder affects millions of people in our country, and around the world. It affects mainly older adults, but there are also cases of Early Onset Parkinson's, such as the actor Michael J Fox," Jordan says. "Most of us know someone with Parkinson's or may have a loved one that has this diagnosis. As of yet, there is no cure, but that doesn't mean there is nothing to be done."
Jordan goes on to explain conventional treatments. "There are many effective treatments that help control some of the symptoms of Parkinson's, including pharmaceutical treatments and deep brain stimulation options. The treatment I encourage can enhance and add to these traditional treatments. It's called Rock Steady Boxing."
Jordan explains that Rock Steady Boxing was developed in the last decade, to enable people to "fight back" against Parkinson's and its symptoms. "Indiana University has done long-term studies that prove the efficacy of an exercise regimen based on training like a boxer." says Jordan. "This type of exercise helps reconnect the brain to the muscular system, by enhancing and building neural pathways. In other words, how the brain talks to the rest of the body. This communication system is under attack from Parkinson's, so it is vital to fight back and work against this damaging process."
Rock Steady Boxing is a non-contact exercise program that works on building overall strength and conditioning, as well as specific boxing related workouts called "Forced Intense Exercise". The program also focuses on balance, gait and safe movement and walking. "We challenge ourselves in class to improve on our basic motor skills, by using strength training, obstacle courses and balance specific routines, so that normal day to day activities seem easier and less worrisome.," says Jordan. "I have been a certified Rock Steady Coach for six years, and we have helped dozens of people cope with their symptoms, and push back against the progression of Parkinson's. My Dad had Pakinson's for years, and he is the reason I'm so passionate about this program and the help and hope it can give people. Classes are fun and a great social connection for our boxers, but they are challenging as well."
Rock Steady Boxing has grown in the last decade from one boxing gym in Indianapolis Indiana, to over 1,000 affiliates around the world. The local Rock Steady Boxing Atlantic affiliate is funded in part by a grant from First Whitney Bank & Trust in Atlantic and WesleyLife, Heritage House's parent organization. "The affiliation fee is not inexpensive, and the continued support of First Whitney has helped us keep the classes going, and allowed us to help so many people." Jordan adds.
Classes are held every Monday and Thursday at 2pm at Heritage House in Atlantic. For more information and details, Contact Jon Jordan at 712-249-2146
"We have spaces available for new boxers, and it has always been my goal to reach as many people as possible with this program. Giving hope to someone who has been given this diagnosis is one of the most rewarding things is do as a Wellness Professional, Coach and trainer."