WesleyLife is honored to have been named a Great Place to Work(R) for the fourth year in a row! CEO Rob Kretzinger shared the announcement below with WesleyLife team members this morning.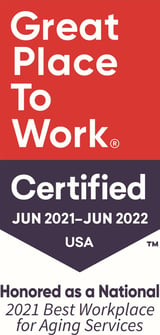 I am delighted to share with all of you that for the fourth year in a row, the Great Place to Work Institute has honored WesleyLife with certification as a Great Place to Work®.
Thank you, first and foremost, to all of those who provided feedback that helped us achieve this honor. Overall, nearly 9 out of 10 of you consider WesleyLife a great place to work — a reflection of the talents, commitment, and dedication that you bring to this organization and use day-in and day-out for the benefit those we serve.
You will hear from your leaders over the next few weeks about the ways we will leverage your feedback about the things we're doing right as well as our opportunities for improvement. Our goal in surveying you is always to make your workplace experience even better, make our connections even stronger, and make you even prouder to be a part of this organization.
On July 7, WesleyLife turns 74 years old. That means the following day, we will begin our 75th year — three-quarters of a century! — of creating possibilities and experiences to help make the second half of life the best half. As we prepare for that important milestone, please know that nothing we do as an organization would be possible without each one of you. I am grateful indeed to work alongside you.
Congratulations to all of you!