In honor of National Hispanic Heritage Month, Leanne McGinn Benson, Executive Assistant at our organizational headquarters in Johnston, shares some of the many ways her Mexican heritage helped shape her into the valued team member she is.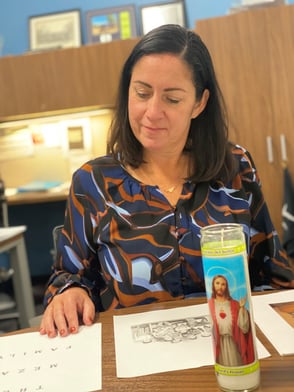 "Above all, my culture taught me that the family unit is the most important element of your whole life, and I'm sure that carries over to my work," says Leanne, pictured here with family memorabilia. "I love the fact that we truly do function much like a family here. When someone is celebrating or someone is in need, we want to be a part of that and we respond."
Leanne's maternal grandfather, Benjamin Meza, emigrated from the Mexican state of Michoacan as a young man to find work. He ended up in Valley Junction, a large West Des Moines neighborhood founded largely by immigrants, and met Magdalena Diaz, whose parents had also emigrated from Mexico. Benjamin and Magdalena married and had seven children, including Leanne's mother, Consuela (Connie).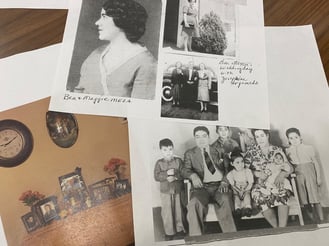 Connie grew up and married John McGinn, and they started a family that includes Leanne as the third of four children. Although the family also valued John's Irish heritage, the customs and traditions of her mom's family defined Leanne's childhood, and still infuse and influence her life.
"Mass at Sacred Heart in West Des Moines followed by lunch at Chi-Chi's was something you just didn't miss; we were all there -- aunts, uncles, cousins, all dressed up, and there were SO many of us!" Leanne recalls with a smile. "Our traditions and our Catholic religion have always been deeply intertwined. Many of our gatherings revolved around Mass and other church functions."
Those events also revolved around food -- and a lot of it! That's another tradition that continues.
"About four times a year, my mom still gets all of us together and we make enchiladas from scratch," Leanne says. "My uncle will be there making salsa, and it's a special time. Then on Thursday nights, we have relatives in Valley Junction who still have family for dinner, no matter what is happening. My mom still goes every week.
"And my mom still cooks and bakes for an army! When she comes over, she brings dozens of cookies or enchiladas or something else she knows we'll enjoy. So much of the way that I grew up revolved around giving to others and being there for them to make sure they knew they were loved."
Leanne says her own two children enjoy the traditions of the Mexican-American side of their family and likely will keep them alive as they grow. Both attend Catholic schools in Des Moines with many other students of Hispanic heritage, and school events often include Mexican food and music.
Leanne prefers Mexican music as well, often listening to it as she cooks or cleans her house, and finds enjoyment and comfort in the Mexican art that was prevalent in her parents' home. All in all, she is grateful for all the elements that make her who she is.
"I think my heritage makes me mindful of diversity and very excited about the fact that we value diversity as much as we do here at WesleyLife," she says. "I'm glad to share my culture and know that it will be appreciated and respected here, and that people are interested to know about my family and where we came from!"