When Grace Green Dickerson moved into Wesley Acres in Des Moines 12 years ago, she knew she was going to need a little help. She was scheduled for immediate hip-replacement surgery, and her husband had been diagnosed with a memory disorder. The couple's children had moved out of state, and Grace knew she wouldn't be able to set up her new household alone.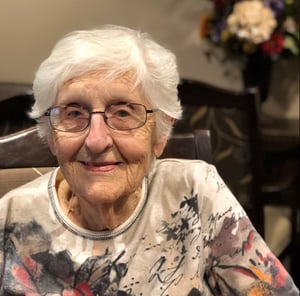 So she asked her new neighbors about hiring some assistance, and one name kept coming up: Christi Peterson. Fast-forward over a decade, and Grace considers Christi — a non-medical case manager and WesleyLife At Home team member — an extension of her family.
"At almost 95, I may not be able to do absolutely everything I used to do, but I know there's nothing I can't handle because I have Christi," Grace said. "She has great enthusiasm for her work, and I trust her totally."
WesleyLife At Home offers assistance to older adults wherever they call home — in houses or apartments, WesleyLife communities, and senior living communities not affiliated with WesleyLife. Assistance can involve virtually anything non-medical with which an individual needs help, including light housekeeping, cooking, organizing, shopping, dog-walking, accompaniment to medical appointments, and simple companionship.
"Christi comes every other Friday, and I usually have a list of things with which I need assistance - getting groceries, putting groceries away, changing my sheets, and occasionally turning my mattress," Grace said. "She knows me so well that she can usually anticipate what I need before I even ask. For instance, I have a hard time loosening lids on medications and bottles, so she does that for me as she puts things away."
Grace said she regards Christi "almost as a daughter," and says she can't imagine her life without assistance from At-Home Services.
"I enjoy living independently, and it would be more difficult to do that without Christi's help," Grace said. "She is one of the most caring and wonderful people I know, and those of us who are able to count on her are very fortunate."
Christi considers herself the fortunate one.
"All the people I work with are so special to me, and they've enriched my life in ways I can't even describe," she said. "It's a privilege to help them and learn from them. They've lived such rich and varied lives, and their wisdom has been a help to me in my life as a mother, and in other aspects of my life as well."
Christi has a degree in mortgage finance, but opted to go down an In-Home Services career path because it afforded her flexibility when she was a young mother with five children. Although her role with WesleyLife has broadened, the personal interactions with clients remain her favorite part of her job.
"I always tell people that I'm the luckiest person in the world because I get to have relationships with people, not push around paper," she said with a laugh. "I have a job with meaning, and I'm a better person every day because of my work. How many people can say that?"