A $25 million redevelopment project that affects hundreds of residents can be tough to pull off without headaches. After all, a community is more than a campus; it's "home," and as anyone who has ever undertaken a remodeling project knows, the process can challenge even the cheeriest of personalities.

But Janet Johnston's here to let us know: The redevelopment of Wesley Acres, WesleyLife's flagship community in Des Moines, is proceeding with little interruption or inconvenience to residents thanks to WesleyLife's development acumen and comprehensive oversight, and the dedication and commitment of the project's construction partner.
"You couldn't possibly expect better," Janet says of the way Graham Construction Company's leaders and team members are conducting their part of the project. "Not only is everything clean and orderly, but everyone is so respectful. They know we live here and they don't want to inconvenience us."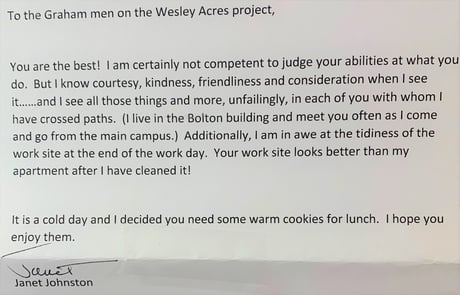 To make sure Graham's leaders were aware of her and others' appreciation, Janet sent a "thank you" letter to the Graham crew -- accompanied by a just-out-of-the-oven batch of homemade cookies.

That may seem like a small gesture to some, but to the Graham team, it meant the world.

"Everything she said in the letter -- that's our culture and just basically the expectation anytime we are on a site," Rich Rieken, construction superintendent, says. "We would be upset with ourselves if that was not the perception. But we appreciate knowing that what we're trying to do is evident to the residents. That's who we're here for."
Another construction superintendent on the Graham team, Brandon Halsey, says it's one thing for the client to express thanks that a project is going well, but knowing that a resident was pleased enough to bake for the team "was really touching to us."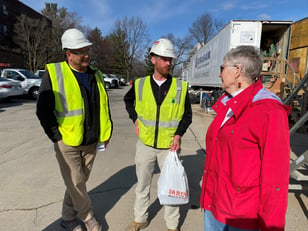 "It's a personal thing to know you are trying to make people's lives better and more enjoyable through your work and what the finished product will be, and to have one of those people reach out in appreciation really made our day," he says. "Construction projects of this nature can be very difficult for people to deal with, and to have someone thank us in the midst of all this was pretty incredible."
Darren Schlapkohl, Vice President of Development for WesleyLife, says Graham's commitment to resident satisfaction is a primary reason WesleyLife chose them for the job.
"With an active community like Wesley Acres, we needed a partner who would perform their work as if they were doing it in their own home," Darren says. "Ensuring the safety and security of our residents was obviously paramount during the contractor-selection process, as was ensuring our residents and our team would have a good experience during a very complicated project."
Janet says she appreciates that WesleyLife chose a contractor that was committed to a positive experience for residents, and she's happy her gesture resonated with the Graham crew. But it was the least she could do, she says, for people who are "working so hard to make a difficult situation so much less so."

"To put it simply, these people are just so nice," she says. "They are unfailingly courteous and polite and helpful. They are right in our living space and the whole place is torn up and it's not easy, and some residents do complain. So I've been trying to make a habit of doing less complaining and making a point to focus more on gratitude.

"We have so much to be thankful for -- a beautiful community to live in that will be even more beautiful after this is done, good food, and people who care all around us. Saying 'thank you' is such a small thing, but something I feel we need to do more of. I'm glad these gentlemen know that we see how hard they are trying, and that we appreciate it."
Read more about Wesley Acres' redevelopment project here and here!






"