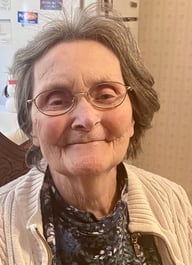 Mention "WesleyLife," and many people think of our 12 Communities for Healthy Living. While we're proud of our campuses and the experiences that are created inside of them, did you know we actually serve a greater number of people who live in their own homes?
In 2020, Patricia and her husband, George, of Des Moines started their journey with home health care from WesleyLife at Home. The couple had been married for 60 years, and both were experiencing difficulty managing their medications. Pat had been diagnosed with dementia, and George had suffered injuries in a fall.
Although Pat and George could not afford to pay out-of-pocket for care, they were able to qualify for assistance through WesleyLife at Home's public-health services. And when George died in summer 2021, Pat continued to receive services that she credits for helping to keep her going.
"I'm blessed with the care I receive from my nurse, Pam; I can always count on her to set up my medications and organize my refills," Pat says, adding Pam is loyal to her and treats her with compassion.
When George died, Pam and WesleyLife's Director of Public Health, Porshia Taylor, attended his funeral -- a gesture Pat says she'll never forget.
"Then, after the funeral, Pam reached out to see if there was anything I needed and to help set me up with homemaking services, as George did a lot around the house," Pat recalls. "My WesleyLife In-Home Services aide, Linda, is a huge help to me.
"With her assistance, I can remain in my home, which is very important to me. Not only do Pam and Linda provide great care, but the connections and the emotional support are very important to me as well."
Pat says she also appreciates the way the team watches out for her.
"When Pam noticed a decline in my health, she increased nursing visits to weekly to ensure my mental health and physical health were stable, as losing my husband of 60 years has been really hard on me and my family," Pat says. "My family and I are truly grateful for WesleyLife and the services they provide."
Do you know someone who is committed to living at home and could benefit from some assistance? WesleyLife's broad network of at-home services -- including home healthcare, in-home services such as housekeeping and light cooking, meal delivery and more -- is here to help. Call (515) 978-2777 to learn more or start services, or read more here!