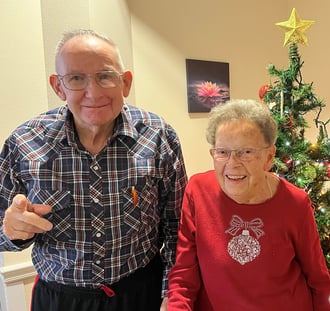 If you drive past Park Centre in Newton and notice a man and woman sitting outdoors, maybe with some country music playing from a radio near them, that's Gladys and Danny.
They're likely counting pickup trucks.
And, as of last year, they're also in love.
"As soon as I saw those big brown eyes, I was just gone," Danny recalls.

Danny is 90; Gladys soon will be. They met when Danny, who had lived in independent living at the community, moved to assisted living last spring. Gladys was new to the campus and was curious about her new next-door neighbor.
"My friend across the hall and I were joking with him right away about making his life miserable," Gladys says with a laugh. "Little did I know..."
Right away, Gladys and Danny began talking and getting to know one another. They had a few things in common; both are from small Iowa towns (Danny, Farrar; Gladys, Prairie City), both had lost their spouses after long marriages, and both were naturally optimistic and committed to enjoying life.
"I liked his sense of humor right away; he's ornery!" Gladys says. "He's liable to burst out in song or to start whistling at any moment. You know he's around because you can hear him!"
Soon after they began chatting, Danny invited Gladys to sit outdoors and "watch the world go by -- or at least watch the pick-up trucks go by." The two would sit outside for hours, counting the trucks and enjoying one another's company.
Not long after, Danny says, "I noticed I was smiling a lot more."
Gladys says she doesn't recall the moment her relationship with her new neighbor evolved from a friendship to "more than friends," but she thinks it may have had to do with hand-holding or a kiss.
"We enjoy holding hands, so probably that," she says.
The couple finds plenty to do at Park Centre; they spend time in one another's apartments, listening to music and doing puzzles; they're regulars at exercise class and take part in most other programs on campus as well.
Most of all, they count their blessings -- this Valentine's Day, and every other day as well.
"I guess you could say I'm surprised this happened," says Gladys, who recalls telling a friend that after having been widowed twice, "I am so lucky to have been loved by three wonderful men." She adds that she hopes her relationship with Danny lasts "for quite some time."

When asked if falling in love at 90 still involves the "butterflies" he recalls having felt as a teenager in love, he doesn't mince words.
"That's a BIG 10-4," he says. "It was love at first sight for me, and it's still going."