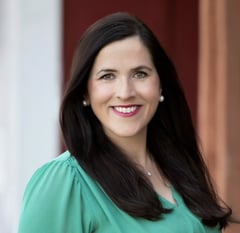 WesleyLife has received a $1.3 million award from the Administration for Community Living (ACL) to benefit WesleyLife Meals on Wheels, Sophia S. Ahmad (pictured at left), Vice President of Philanthropy for WesleyLife, has announced.
The award will help to support construction of a new Meals on Wheels campus designed to triple meal capacity for the thousands of nutritionally vulnerable older adults and military veterans who are served by the WesleyLife nutrition program.
"The federal award was set into motion in 2022, when Rep. Cindy Axne, then representing Iowa's third congressional district, included the request as one of 15 community projects* from the district that was recommended to the U.S. House Appropriations Committee," AARP State Director Brad Anderson, a tri-chair for the So Much More than Meals campaign, said.
"The funding was included in the 2022 Omnibus Appropriations Bill, then allocated to the ACL for distribution in 2023. We are humbled and gratified to have received it on behalf of all the older Iowans who we hope to reach through our Meals on Wheels expansion."
Ahmad also expressed gratitude for the award and for the volunteer campaign leaders who advocated that WesleyLife receive it.
"When our new campus opens later this year, these dollars will have an immediate impact on food-insecure Iowans," Ahmad said.
The So Much More than Meals campaign — led by campaign tri-chairs Angela Connolly, Polk County Supervisor; community leader and retired Des Moines City Council member Christine Hensley; and Anderson — has raised more than $11 million to help fund the new Meals on Wheels campus, which will open late this year. Additional information on the project can be found here.


*This project is supported by the Administration for Community Living (ACL), U.S. Department of Health and Human Services (HHS) as part of a financial assistance award totaling $1,322,415 with 10% funded by ACL/HHS and $11,585,478 and 90% funded by non-government and other public sources. The contents are those of the author(s) and do not necessarily represent the official views of, nor an endorsement, by ACL/HHS, or the U.S. Government.