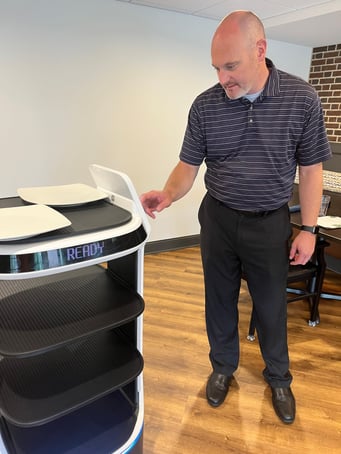 She has an incredible work ethic. She can carry multiple plates at a time, and she'll even play you some instrumental jazz standards and a cheery rendition of "Happy Birthday" while she's at it.
Sure, she might accidentally bump into you every now and again, but she'll always say "Excuse me." And she's making life easier for servers at Wesley on Grand.
Meet Wes, the dining-room robot.
Wes joined Wesley on Grand in Des Moines after Sam Kolner, Director of Dining Services for the community, saw a robot just like her at a food show. Sam, pictured with Wes here, sent a video to a few other WesleyLife leaders with the line, "We need this!"
The leaders were intrigued, WesleyLife's Information Solutions team was consulted, and the stage was set for Wes to join the community. (Watch her in action by clicking the link!)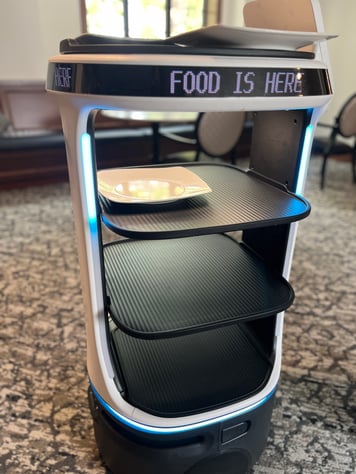 "We decided to pilot her here as part of our recent redevelopment, and she couldn't be a better addition," Sam said of Wes, who serves in one of Wesley on Grand's dining rooms, but is also able to travel to other parts of the community. "She has entirely changed the way we serve lunch and dinner."
Sam says Wes arrived at Wesley on Grand with representatives from the organization that created her; the representatives were on site for a few days with WesleyLife's Information Solutions team to program her to follow designated routes.
Her "home base" is the kitchen of Sante, one of Wesley on Grand's restaurants, and she can travel throughout that space and the adjacent dining room.
Wes also can journey through the community's newly renovated public areas to the Chamberlain Pub at the front of the campus, entertaining residents all the while with jazzy piano standards playing from her speakers.

"Everyone here loves her," Sam says, adding that residents and team members participated in a contest to name their new friend (a close second was "Rosie" in a nod to the futuristic 1960s cartoon "The Jetsons"). "She's a great conversation-starter; people watch her and just shake their heads and laugh."

Sam adds, however, that in addition to her novelty factor, Wes has also made life easier for the servers she supports.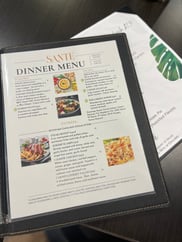 "Basically, after the server greets the residents and guests and takes their orders, Wes is the one who brings the orders out," Sam says. "That gives the servers more time to interact with the residents - to make sure they're well taken care of, and to focus on the hospitality that is so important to us here.
"They're not running into the kitchen as much, so it works well for everyone."

Damon Buskohl, Executive Director at Wesley on Grand, agrees Wes has been a valuable addition.
"The added efficiency is terrific; we're always looking for ways to work smarter," Damon says. "But besides that, you see this little thing tooling down the hall and you can't help but have a better day."