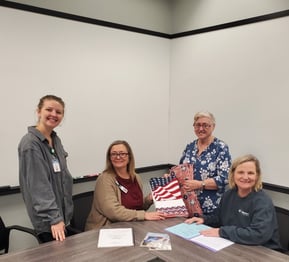 According to a Kaiser Family Foundation poll, seven of 10 Americans say when their time comes, they would prefer to die at home. And another new study, this one by Johns Hopkins, shows families of older adults who die at home are more satisfied with their loved ones' care than those whose family members died in a free-standing hospice center.
The preference for hospice at home services in the last stages of life shouldn't surprise anyone: It's safe to say most of us feel a sense of peace and comfort when we're in familiar surroundings, perhaps in a favorite chair or tucked in bed with our favorite people, pets, and belongings around us.
If you find yourself seeking hospice services for a loved one, that person's doctor or care team might recommend your family member transition to a hospice center -- but did you know that choice is up to you?
A hospice center is certainly an option, but the more popular option in today's hospice landscape is the kind of home care provided by WesleyLife Hospice -- and for good reason. While your loved one is relaxed in a familiar environment, we'll send nurses and other care providers to your family member to help them live exactly as they want to, as long as they can.
If you're deciding between a hospice center and WesleyLife Hospice at home, here are a few things to note.
Hospice isn't a place; it's care that can be extended anywhere, based on a philosophy that focuses on enhancing comfort and overall quality of life. No matter where it's offered, hospice care provides pain management, treats physical symptoms, and addresses emotional and spiritual needs.
WesleyLife Hospice care extends to wherever a seriously ill person calls home — a private house or apartment, a family home, a senior living community, etc.
Care is provided by a team that will visit at home. At WesleyLife Hospice, that team is comprised of nurses, Certified Nursing Assistants, aides, social workers, volunteers, music therapists, and, if desired, a chaplain or other spiritual provider. Visits from therapy pets also can be offered.
Our hospice at home services are available 24 hours a day, seven days a week. Our team will work with your loved one to determine the most effective schedule of care, which will likely be fluid in responses to changes in the person's condition.
We are specially qualified to serve military veterans and their families. As a Level 4 partner of We Honor Veterans,

WesleyLife Hospice is part of a national program that empowers hospice providers to meet the unique needs of military veterans and their families at the end of life.

The cost of hospice at home services, like the cost of hospice care in a center, is covered by Medicare. Veterans' Administration (VA) benefits also cover the cost.
A robust program of bereavement services is offered free of charge to family members for at least a year after the death of their loved one.
When you're faced with a decision involving the kind of hospice care to select, the decision comes down to the wishes of your ill family member. If they want to die at home, that's a desire that should be honored — and can be accomplished compassionately and safely with WesleyLife Hospice at home.