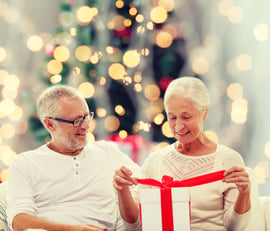 Knowing a loved one has a life-limiting illness can make the holidays bittersweet. But as Tim B. of Des Moines learned last year, assistance from an in-home hospice provider can place a little more focus on the "sweet" and allow families to make treasured memories.
"WesleyLife started caring for my wife just before the holidays last year," Tim says. "They enabled her to have some really good days, and she felt well enough to celebrate with our family on Christmas Eve. It seems strange to say, but she lived really well during those final months."
November is National Hospice and Palliative Care Month -- a good time to talk about what hospice is and isn't, and a natural time to begin the discussion; often, when families are together for Thanksgiving, they notice changes in a loved one's condition, or engage in conversation about challenges around quality of life, caregiving, or other issues related to a loved one's illness. Honest conversations around care plans can actually result in a less complicated and more meaningful holiday season for all involved.
However, first things first: You may not be entirely familiar with hospice and the services that are offered. In a nutshell, hospice care focuses on quality of life, on the wishes of the individual who is receiving their services and their loved ones, and on easing distress in the months preceding death.
Virtually anyone with a life-limiting illness can qualify for hospice services, enabling the individual who is being served to live life in comfort for the time that remains. Anyone who has been diagnosed with a life-limiting illness can quality for hospice services.
If a family member is ill and you've been wondering if hospice is a logical next step, it may seem counterintuitive to think about "living" in conjunction with services offered at the end of a person's life. But during hospice care, a person is living — and it's important to understand that hospice services can actually help ensure quality of life.
Options for hospice services are nearly as varied as the individuals who seek them. They range from home care to services in a freestanding hospice center to in-between, hybrid models, and the type of care you and your loved one select is truly an individual choice.
"In our case, home hospice services made sense because my wife, like many people, was committed to living out the rest of her life in her favorite place -- our home," Tim says. "At first, the care team came once or twice a week; then the visits became more frequent.
"Basically, their role was to make sure my wife was living exactly as she wanted to -- whether she wanted music, food, whether she wanted to do her needlepoint or go sit in the garden and watch the birds. Hospice was able to handle the logistics, and I was able to enjoy spending time with her and not worry whether I was caring for her correctly."
Tim's reminder is a good one: No matter the type of services you're considering, you should always ask any provider on your shortlist: "How can you help me or my loved one continue to LIVE through this stage of life?" As you think through that, consider the ways you and your family want to spend time together. For some families, like Tim's, it's comforting to have hospice providers care for the person who is ill in their home so family members can gather around and simply enjoy being loved ones.
Making that first call to a hospice provider can be difficult — but having care in place for the holidays can actually help make these special occasions more relaxed and meaningful for your loved one as well as the whole family.
"No one wanted to admit we needed to call hospice, but once we met with them and set up a plan, we breathed a sigh of relief knowing my wife would be comfortable at home, and we could focus on making Christmas as special as possible with her favorite traditions," Tim says. "Now, looking back, we are so grateful for those memories and will treasure them."
WesleyLife offers a broad network of health- and well-being-focused communities and services, including home hospice services, for older adults. Call (515) 978-2777 or click here to learn more.