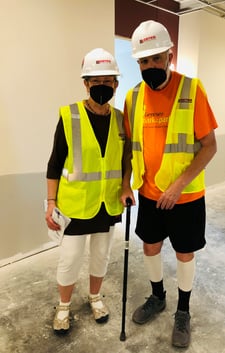 For some, Valentine's Day is about roses, dramatic declarations of love, maybe even a romantic getaway.

For Marianne and Mark, it's about strolling the gathering areas of The Summit of Bettendorf arm in arm, enjoying time together about halfway between her apartment in independent living and his in the health center.

"And as much as I can't believe I'm saying this -- for where we are in our lives now, I wouldn't have it any other way," Marianne says.

Mark and Marianne met five years ago in a phone-based support group for people whose lives had been affected by Parkinson's disease. She was living in New Jersey, he in Bettendorf, and even as they participated in group conversations, Marianne suspected she was falling in love -- sight-unseen -- with this quick-witted man to whom everyone seemed to be drawn.

"One day we were on the phone together, and I asked him if he was interested in talking with me about something other than the business of the group," Marianne recalls. "I don't think he caught on at first -- 'Sure, what do you want to talk about?' he asked. But eventually, he caught on!"

The couple fast-tracked their relationship from that point. After using an online platform to see one another for the first time, Marianne traveled to the Quad Cities to meet Mark and his family; he followed her back to New Jersey. After several months of travel, they ended up in Bettendorf -- where they watched, from the window of their apartment, as The Summit began taking shape.
"I spied an apartment that I claimed early on as my own, from the window!" Marianne says. "In all seriousness, I had read about it and I knew we needed to be there. We're younger than most who go into a community; I'm 60 and Mark is 64 -- but with his Parkinson's, I knew that for him and for our relationship, it was time to make those plans. I wanted to be able to truly enjoy the years we have together."

The couple's plans to move to The Summit ended up coming together a little more quickly than even Marianne had anticipated; Mark fell, necessitating a stay in short-term rehabilitation. The Summit's health center happened to be the first portion of the brand-new community that was ready to welcome residents, and Mark was the second person to move in.
A short time later, Marianne joined him -- not in the same apartment, but under the same roof.

"Living in two different apartments wouldn't be ideal for anyone, but to be honest, I am just so grateful that we can be together," she says. "I'm so thankful that everyone at The Summit worked so hard to get us in here before winter; we're cozy and warm and together. We were cooped up for two years in a small apartment, and now we have all this beautiful space to walk in, and to explore."
Marianne's lovely independent living apartment is separated from the health center by dining and gathering spaces where the two can meet and spend time with new friends, or simply enjoy having a drink or taking walks alone.

"One of my favorite things is how The Summit is so sensitive to the things that make us feel at home," she says. "I was walking Mark home to his apartment at 1 a.m., and as we were walking down the main corridor, a song by Steppenwolf started playing and we were rocking out as we walked!"

Marianne admits that for her and Mark, Valentine's Day might look different from the conventional lovers' holiday -- but she's simply happy to live under the same roof as the man she loves, in a beautiful new community filled with team members who have shown tremendous compassion to their situation.

"I was reaching a state of caregiver burnout, and that wasn't fair to Mark or to me," she says. "Now, I'm seeing him not as someone I'm taking care of, but as the person I love. We are in this beautiful, active, fun community -- enjoying, together, whatever time we have while we're still young enough to do that.

"Our situation here has allowed me to focus on everything I love about Mark -- on Valentine's Day and every day. He may be struggling with his disease, but he is still the same person. His voice may be soft now, but he is worth listening to."