Earlier this week, WesleyLife CEO Rob Kretzinger sent the greeting below to our 1,800 team members. An organizational culture of appreciation begins at the top, and whether you work for WesleyLife or receive services from one of our Communities for Healthy Living or WesleyLife at Home, we are grateful for all of you. Wishing you a blessed Thanksgiving with those you hold dear!

*****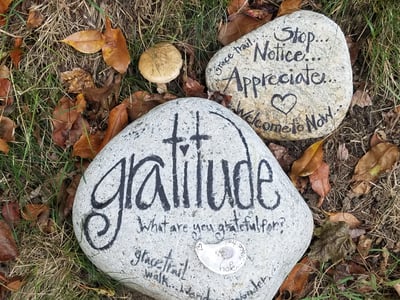 Dear Team Members,
Happy Thanksgiving!
I'm writing you with gratitude; even though the pandemic isn't fully over, we're in a much better spot today than we were in last year at this time. I'm preparing to spend the holiday with my family, and I hope you'll be with loved ones, too. This will be my family's first holiday with a daughter-in-law -- something to be thankful for, for sure! And of course grandson Jay, now 15 months old, will be the life of the party.
When I think back on 2021 -- and on all of you -- I believe two words will first come to mind: dedication and commitment. Since the pandemic began, we've asked a lot of you, and you haven't simply complied. You've asked: What more can we do? Whether you're a clinical team member, someone who works on our front lines, or a leader, you are asked (daily, it might seem) to go above and beyond for our residents and clients, and you simply dig deep and make it happen.
You remind me daily that John Wesley's quote about doing "all the good we can" isn't just carved into the foyer at the NSC. It's illustrated by the CNA who stays late yet again, the nurse who hasn't been off her feet during her entire shift, and the housekeeper who adds those special touches that remind a resident of her former home. It's exemplified by the chef who buys special ingredients to cook the favorite dessert of a resident who isn't feeling well, and by the dishwasher who stays into the evening to help during a busy time or cover for a team member who's ill.
Have I mentioned how thankful I am for ALL of you, and how proud I am to be a part of a group of such genuinely good people? I could mention it each hour of the day, and it wouldn't be enough.
I'm also thankful for the opportunities we've had this year, and for the ones that are ahead -- opportunities to serve greater numbers of people than ever before. Opportunities for us to bring our message of health and well-being to new markets. Opportunities to create new experiences that show people that, yes, the second half of life truly can be the best half.
I wish you all an abundance of blessings this holiday week and always. Again -- thank you.