WesleyLife marked 75 years of enhancing the health and well-being of individuals in Central Iowa and beyond with a celebration Thursday, July 7, at Horizon Events Center in Clive, Iowa.

During a five-plus-hour event that featured keynote speaker Dr. Laura Carstensen of the Stanford Center on Longevity, WesleyLife President and CEO Rob Kretzinger was honored for 26 years of leadership, during which the organization has grown to serve nearly 10,000 people each year in 12 communities and via a broad network of home-based services. He shared credit for the organization's success.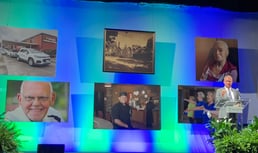 "We're here because of those who came before us," Kretzinger said, paying tribute to WesleyLife's prior CEOs and others who were instrumental in growing the organization from a "home for the aged" to one of the region's largest non-profit provider of services to help people live healthier, longer, and more purposeful and meaningful lives.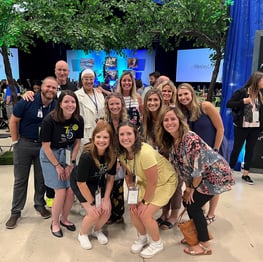 "Everything we do as an organization is based on the fact that we are honored and privileged to serve -- everyone from our leadership team to our front-line team members and everyone else with a role in WesleyLife is part of a mission that is bigger than ourselves," he continued. "As we continue to grow and evolve, that mission will still be at the center of all we do."

Introduced by master of ceremonies Mark Allen, a longtime local broadcast personality, Carstensen followed Kretzinger on stage and praised WesleyLife for focusing not only on longevity but on quality of life for residents and clients.

She went on to point out during her keynote that more years were added to the average life expectancy in the 20th century than in all previous millennia combined, but stressed that society continues to view "old age" in ways that don't apply today.

In heading a Stanford initiative called The New Map of Life, Carstensen predicts lifespans of 100 years or longer will soon be a reality for all, and that to accommodate those extra years, perceptions, norms and policies need a lot of updating.
"Meeting the challenges of longevity is an all-hands, all-sector undertaking, requiring the best ideas from the private sector, government, medicine, academia, and philanthropy," Carstensen said Thursday. "The policies and investments we undertake today will determine whether we make the most of the 30 extra years of life that have been handed to us."
Following a performance by comedian Kent Rader, Chad Rasmussen, president of the WesleyLife Board of Directors, paid tribute to Kretzinger.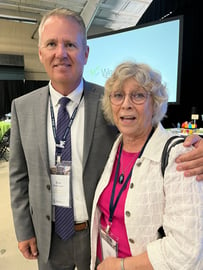 "Rob joined WesleyLife back in 1996 as Chief Operating Officer, and his family members have said they were not surprised he ended up choosing the career he chose, as many of you know he became a CNA to help pay for college," Rasmussen said.

"We've heard stories that back in the '80s in Jefferson, Iowa, if a teenage Rob didn't show up on time for dinner, he could usually be found at the nursing home, sitting with a resident who was ill or lonely. That's the Rob who still shows up for work every day, and at the foundation of every decision he makes."
Rasmussen closed by announcing that a custom art piece had been commissioned in Kretzinger's honor by regionally renowned artist and educator David Borzo. The piece, which depicts elements from the organization's heritage as well as future hopes and goals, was unveiled following the formal program.
After the unveiling, attendees browsed a history walk depicting WesleyLife from 1947 through the current day, left messages in a retro phone booth about their connections to WesleyLife, took photos with friends, enjoyed refreshments, and shared their thoughts on a future-vision story wall that asked the question: "What would you tell your future self?"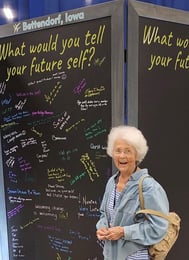 The event ended in the late afternoon, but its theme, "Celebrating Our Past, Reimagining Our Future," will carry into a "WesleyLife Week" observance that will run through July 15 throughout the organization. Watch this space for coverage and photos!