Ronda Redman of Pella assumed she had a cold. When it lingered longer than she expected it to, she visited her doctor, was prescribed an antibiotic, and waited for relief.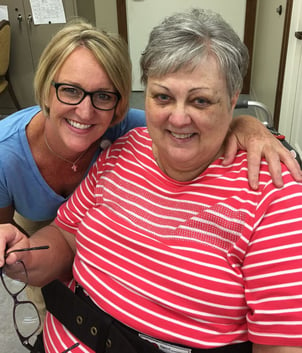 The relief never came; in fact, the inflammation in her throat grew worse. One night, unable to stand the pain, she asked her husband to take her to the emergency room. Hours later, she was on her way to Des Moines in an ambulance, having been diagnosed with a tonsil abscess that needed immediate attention.
Fast-forward several days and Ronda, 64, listened in disbelief as she was told she wasn't strong enough to return home. A fall and a series of complications following a tonsillectomy had resulted in a pulmonary embolism; following days of sedation and the development of two severe hematomas, one of her legs was numb, and she was immobile.
"All I wanted to do was go back to my house; I was just so homesick," Ronda says. But doctors warned that another fall could be catastrophic, so she needed to spend a few weeks in skilled rehabilitation with the hope that she'd then be strong enough to return home. Disappointed but resigned, she allowed herself to be taken to Hearthstone in Pella, a ministry of WesleyLife.
"I was in tears; people would walk in my room and I'd say, 'I'm sorry I'm crying, but I just don't want to be here,'" Ronda says. "But within a couple of days, I knew I'd landed in the midst of some special people. Everyone was so kind and so patient.
"I had the feeling very quickly that these were people who really cared — not only about getting me back on my feet, but about helping me feel at home."
Ronda's physical therapists agreed to meet a goal — to get her home by the Fourth of July. That gave her only a few weeks to become mobile on her own again, and she recalls that when she first suggested that date, the team felt it was perhaps too ambitious. But they soon realized they needn't have worried.
"Ronda was incredibly determined," WesleyLife physical therapist Amy Pedersen says. "She knew that more than anything, she just wanted to get out of here and go home! But she made the most of her time here. She worked very hard, and I think she was very proud of what she accomplished. She had been so sick, and she made amazing progress."
Ronda says she was proud of the strides she was able to make with the therapists' help.
"I was able to do things I could never have dreamed I could do," she says. "I went from being moved from bed to bed on a sheet to being able to stand in no time. The physical therapists were awesome and taught me different ways to do things, and those things were attainable and made me feel independent again."
At the end of June — one full week before her July 4 goal — Ronda walked out of Hearthstone on her own and got into her husband's car, ready to head home to meet her brand-new granddaughter, Lillian, who was coming home from the hospital on that very same day.
"It was one of the best days ever, and such a homecoming for our family," Ronda says. "If not for the physical therapists, I have no idea what would have happened to me, or what my life would be like now."
To help keep Ronda healthy and help her continue to gain strength at home, she turned to WesleyLife's network of services designed to help people remain independent, wherever they call home. Nurses from WesleyLife At Home visited her a few times a week to help with medications, and to make sure her recovery was progressing.
And two weeks after she left Hearthstone, Ronda returned — as an outpatient physical therapy patient. She's feeling strong and hopes to be able to stop using her walker soon.
"I want people to know that when you come here, you're not just coming to heal your body — you're also coming to feel better emotionally and be treated like part of a family," she says. "I can't tell you how special Hearthstone and the people here are to me now, and I won't hesitate to recommend it to everyone I know."
To learn more about skilled rehabilitation in any of WesleyLife's Communities for Healthy Living, call us at (515) 978-2777. We're here to help!