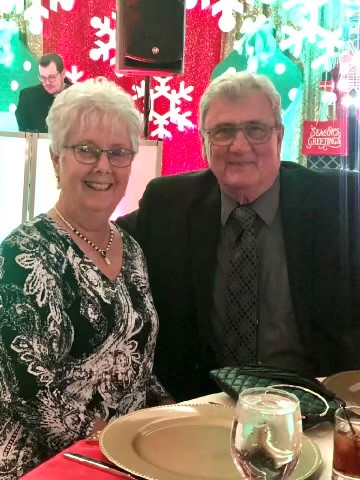 Jane and Bob had known one another for years. Decades, actually -- their attendance years at Washington High School had overlapped, and although they hadn't dated, they had been aware of one another. Later, both having married others, they socialized as "couple friends" with Jane's husband and Bob's wife.
Nearly 60 years later, things have changed.
"He is kind, treats me like a queen, he's very handsome, and he lets me be me," Jane, a resident at Halcyon House in Washington, says about the man who is now her significant other. "We just have so much fun together. I feel very lucky, and he says he does, too!"
Jane, 75, had enjoyed an active social life with her husband, and it was on the golf course that they had become friendly with Bob and his wife. The two couples often enjoyed nights out, golf dates, and even vacations together.
In 2016, Jane and her husband moved to Halcyon House and enjoyed many good times in the community before he passed away the following year. "I spent the next couple of years getting used to being widowed, and that wasn't a lot of fun," Jane says. "It helped being at Halcyon House, as many people had gone through the same thing. But it was still lonely."
One night in 2020, Jane found herself at a Washington restaurant with a large group of people -- including Bob. He had been dealing with his own loneliness, and to Jane's surprise, he ended up asking her out.
"Honestly, I think it surprised him, too!" Jane says with a laugh. "If you haven't been widowed, this might be hard to understand -- but you really miss having someone to do things with, even just go out to eat with. We both knew how that felt."
Within a short amount of time, Jane and Bob, 77, found they greatly enjoyed one another's company, so they decided to take their relationship to the next level and "get a feel for things" with their adult children before officially becoming a couple, Jane recalls.
"We weren't asking for their permission, but we wanted to check with them and make sure they would be comfortable with the two of us together -- and they have all been wonderful," Jane says. "Everyone has. Even acquaintances that we haven't seen for a long time -- high school, even! -- are reaching out and saying they're really happy we're together."
Jane and Bob enjoy golfing, sightseeing, and traveling; they spend four months in Arizona in the winter, as Bob has a son in Mesa. They're "happy as we can be" Jane says, and have the best of both worlds -- time together, but their own space as well.
"He makes me blush by telling me he likes me for my 'kindness and beauty,' but we're also just very good and compatible friends who have so much fun together," Jane says. "It's a good life, and I feel very fortunate."