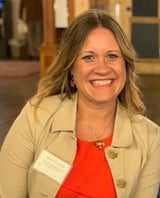 A few years ago, Berniece A. of Des Moines suffered a fall down a short flight of stairs. She'd always had trouble with her knees, and she'd been afraid of falling because she was committed to living in her home as she aged, and she knew that if she were to become injured, her living situation might have to change.
So when she stumbled, her first thought was: "Oh, no. Now I'll have to leave my home."
Her two adult sons, aware of their mother's desire to remain in the house she'd lived in for 49 years, researched care options to help ease Berniece's fears. Now, thanks to In-Home Services from WesleyLife, Berniece is living independently -- and going strong -- at 91. In-Home Services team members are with her 40 hours a week to keep her safe, assist her with needs and activities, and provide her with companionship.
"I like that they don't tell me what to do; there's no 'You have to go here' or 'You have to do this,'" Berniece says. "They make suggestions, but they're very nice. They'd do anything for me."
Heather Frank, an Account Executive with WesleyLife at Home, says the In-Home Services team members who help Berniece consider it a privilege to spend time with her. An aide travels to Berniece's home Monday through Friday to spend eight hours a day "basically doing whatever she needs -- but they have fun, too!"
"An aide helps her get ready in the mornings, and some days they're pretty active, going here and there," Heather says. "They go with her to her doctors' appointments, they go shopping -- really anyplace Berniece needs or wants to go, or feels up to."
In most cases, In-Home Services from WesleyLife are paid for by a client's family, as they are usually not covered by insurance. Assistance ranges from cooking and light housekeeping to accompaniment to appointments, help with pet care, and "just about anything in between," Heather says.
"Our goal is to help people remain independent wherever they call home, and our services are so helpful because they are so varied and so affordable by many families," she says.
"In so many cases, clients don't have family members around; even if their children are very involved, they might live far away or have work responsibilities that prevent them from helping as much as they'd like. So we're able to give the family, as well as the client, peace of mind. And with our organizational focus on health and well-being, we do all we can to enrich our clients' lives."
Berniece says it means the world to her to be able to remain in her home.
"My things are here, and I'm comfortable here," she said. "I just need a little help. I think it should be up to a person where they choose to live as they get older!."
To learn more or schedule services for yourself or a loved one, call WesleyLife at (515) 978-2777. We are here to help!