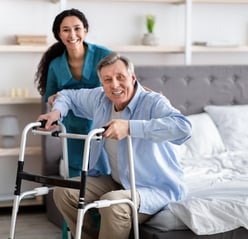 When Chris was preparing for knee-replacement surgery, he thought his recovery would be a slam-dunk. At 78, Chris had always taken care of his well-being; he ate healthily and participated in hobbies he enjoyed, and — until osteoarthritis made movement more difficult — walked at least 45 minutes a day.
When he and his doctor decided it was time to replace the left knee, Chris couldn't wait to have the surgery and become active again. But he ended up developing an infection in his wound site and remaining hospitalized for several days before being discharged to short-term rehabilitation. He spent two weeks there, receiving physical and occupational therapy to help him regain his strength.
Finally, the day came for his return to his house; Connie, his wife of more than 50 years, was eager to help care for him in familiar surroundings. But before Chris left the rehabilitation community, his doctor threw him a curve: "You can go home today, but I think you still need some extra assistance," she said. "I'm going to prescribe a few weeks of home health care."
Chris and Connie looked at one another, puzzled. Why couldn't Chris just be done with medical interventions for a while, they wondered. "What will home health care do for me that we can't handle at home?" Chris asked the doctor.
Quite a lot, it turns out.
Home health care is clinical, medical supervision provided in a person's place of residence. This type of care is usually prescribed by a doctor as part of a care plan following a person's hospitalization for illness or injury; it can also benefit older adults who are prone to falls or who have been diagnosed with chronic illnesses, such as cardiac problems or diabetes. It can include:
Health monitoring
Medical testing
Administration of prescription medication, shots, or other forms of treatments
Physical, occupational, and/or speech therapy
Wound care
Chris's doctor presented him with home health provider options and asked him to choose one; that evening and the next day, Chris and Connie researched providers online, and ultimately selected one. Weeks later, Chris is ready for his final session and is grateful for the care he received.
On the advice of the doctor, Chris and Connie used the questions below to choose Chris's home health provider. If a doctor has told you home health might benefit you, feel free to use the questions as well to find the provider that will best meet your needs.
Is the provider established? It's not unusual for providers to enter and exit the market quickly. Consider one with positive outcomes that can be supported. Online reviews can be a great resource, but don't stop there; search sites that offer ratings and quality scores, including patient-satisfaction scores, and ask friends and family members for opinions.
Is the provider Medicare- and Medicaid-certified? Certification is a sign that the organization meets state and federal requirements and can be expected to provide quality care.
On a related note: Can the provider break down, quickly and easily, the percentage of services your insurance will pay for, and how much of the cost, if any, will be out of pocket? Make sure you thoroughly understand this information before services begin.
What services does the provider offer? Look for one that specializes in physical, occupational, and speech therapy, among other services, so caregivers can address a range of needs.
Ask about the qualifications and credentials of the individuals who would be providing your care. Your team should include people with certifications and licenses that are appropriate for the services they will be administering. For example, if you're promised a nurse, ask and make sure the person who will be caring for you is either a licensed practical nurse or registered nurse.
Ask how your care plan will be fulfilled. (If a provider asks, "What's a care plan?", that's a bad sign!) A home health care plan should be created for you, in conjunction with your doctor. It should be tailored to your specific needs to help ensure that you receive the right care at the right time.
You can ask many more questions, but those should get you started. Here's hoping you'll choose a provider that will make a positive difference in your well-being for years to come!
As a provider of home health services, WesleyLife meets all the criteria above -- and then some! If your doctor has prescribed home health care, remember that the provider you select is ultimately YOUR choice. Call (515) 978-2777 for your free WesleyLife at Home consultation!