When Kari G. was planning the ways she'd spend her time during the summer following her graduation from Central College in Pella, going on midnight tours of a senior living community with a new best friend nearly four times her age was probably not on her list of things to do. But she wouldn't have it any other way.
Kari, 22, is the newest resident of Fair Haven East, a campus of Hearthstone, a WesleyLife community in Pella. Yes, you read that correctly -- a newly minted college graduate is living among older adults in a community for people 55 and older. And to be accepted as a resident, she was required to complete a rigorous application process, as numerous other students also were clamoring to make Hearthstone their home for the summer.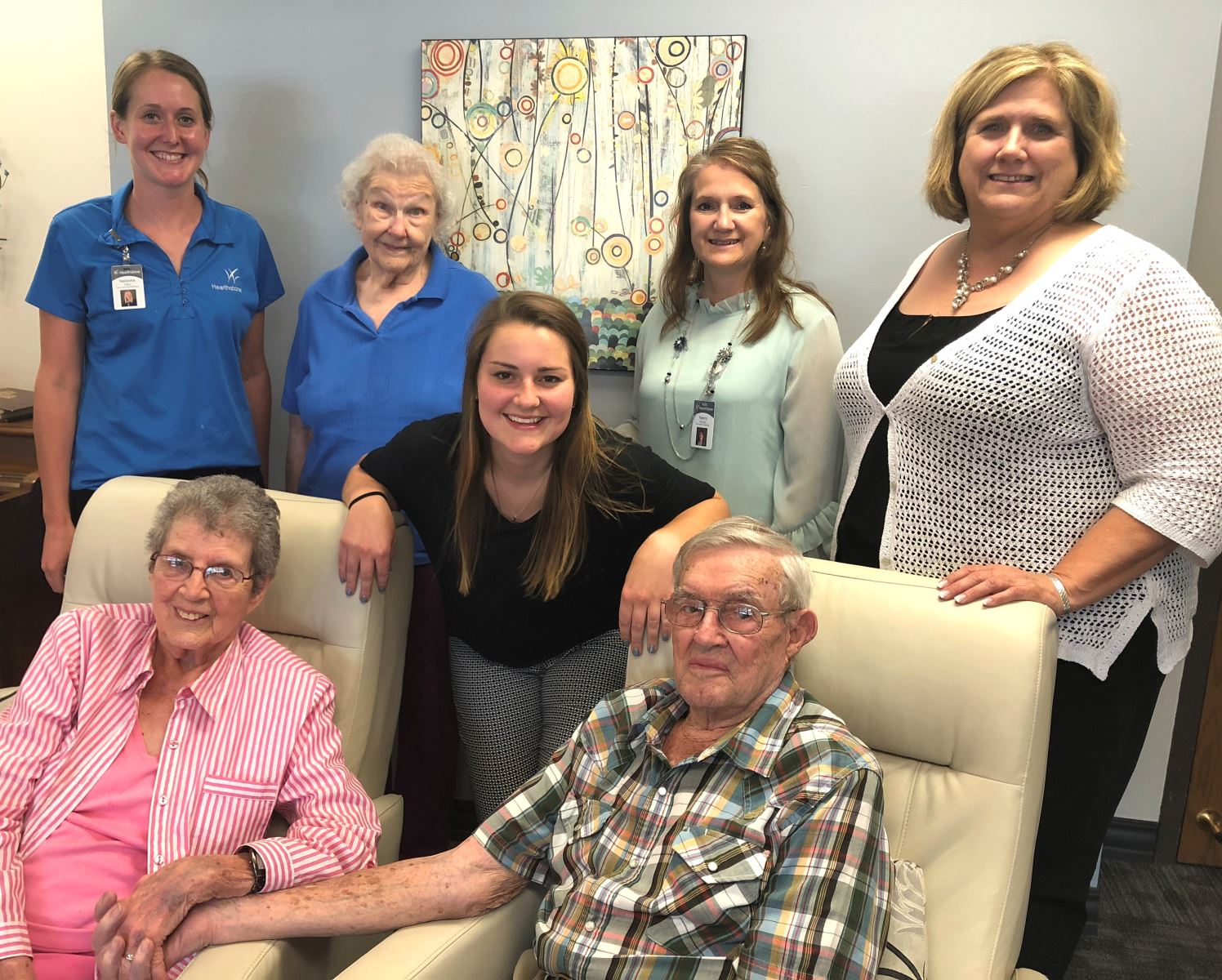 "I know it might sound funny, but I had never heard of something like that, and I knew I'd love to see what it was all about," Kari said of first seeing news of the opportunity in a campus publication. "I loved the time I used to spend with my grandparents, and I really enjoy being around older people."
Kari's new living arrangement is a pilot project Hearthstone initiated with the college. "We know that regular and consistent interaction with young people not only enhances the lives of older adults, but may actually help them live longer," Hearthstone's executive director, Nancy Hamilton, said.
"With the encouragement of our CEO, Rob Kretzinger, who has a vision for intergenerational experiences in senior living, we wanted to pilot this project as something beneficial for our residents as well as for a student who wanted an immersive opportunity."
Natasha Nikkel, Director of Wellness for Hearthstone, leveraged the community's longstanding relationship with Central to initiate the project. She let the college know Hearthstone was looking not only for a student who would appreciate free room and board for the summer -- a definite perk of the arrangement! -- but one who would want to become a contributing member of the Hearthstone community.
"Central's initial screening resulted in some very good candidates, and when we interviewed them, we knew right away that Kari was exactly who we were looking for," Natasha said. "We wanted someone who genuinely seemed to want this experience, and who would appreciate and value it. We also wanted someone who would add value to the lives of our residents."
In return for free room, board, meals, and use of community amenities for the summer, Kari is expected to present twice a month to residents on topics of her choice, said Dot Beason, Independent Living Director for Hearthstone. Hearthstone's team was delighted to find that in addition to her desire to become a physician, Kari has other talents that translate well to enhancing residents' lives.
"During the interview, we learned that in addition to her intelligence and her social skills, Kari is an accomplished singer, and she's traveled abroad extensively," Dot said. "For her first presentation, some of her family members came, and they hosted an old-fashioned singalong for residents and team members. Everyone loved it!"
Although many of Hearthstone's residents were surprised to learn they'd be welcoming a new neighbor who could be a contemporary of one of their grandchildren or great-grandchildren, most were eager to welcome Kari.
"I was so excited to see what she'd be like," resident Joyce VanWyk said. "She sat with us right away, and we had a nice visit. She is very well-educated, and she seems interested in what we do and what we think. We found that we both like puzzles; in fact, we've been so involved in our puzzles that we've worked on them right through dinner!"
Kari said Joyce has become one of her favorite new companions. The two share a sense of adventure, with Joyce having led her young friend on a tour one night of all the nooks and crannies of her new campus -- at midnight, after the two had finished their puzzle!
Another resident, Evelyn DeCook, said she also considers Kari a positive addition to the Hearthstone family.
"I think she fits in very well," Evelyn said. "I didn't know what was going to happen, having a student here, but she's been just fine. She seems like a very pleasant and friendly young woman, and someone who's a good representative for us."
Kari said she's grateful to have been chosen for the pilot program. She's applying to medical schools and will leave her Hearthstone family behind at the end of the summer, and she's certain she'll remember the experience as a highlight of her life.
"Just because people are different ages doesn't mean they can't be friends," Kari said. "I look forward to learning from everyone here, and I know they'll enrich my life. I feel very lucky to be here!"