A year ago, WesleyLife and Genesis Health System of Davenport "made it official," forming the partnership that created WellSpire. In the year that began July 1, 2019, WellSpire began introducing senior living with a health and well-being focus to the Quad Cities, building on its parent companies' firm foundations to provide quality care and services to older adults in eastern Iowa and western Illinois.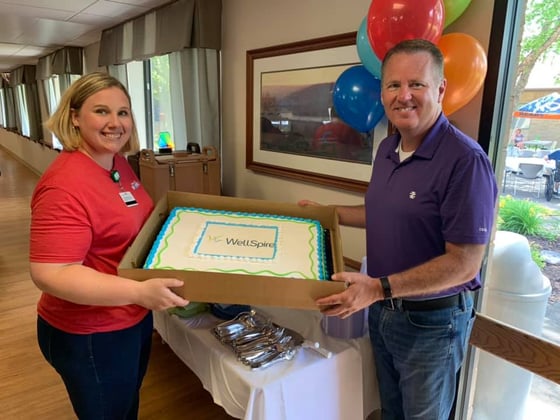 CEO Rob Kretzinger and Kristy VanDerWiel, Vice President of Strategy and Mission Integration, wrote the following to WellSpire team members in honor of the day. Congratulations, WellSpire; we are so glad you're here!

Dear WellSpire Team Members:
Happy first anniversary!
We wish we could be with all of you today to celebrate a rather momentous year. And "momentous" is not a word we use lightly; in the 12 months since you all came on board, we've worked together to make a number of small, but significant changes in our approach to services in the Quad Cities. We've also broken ground for The Summit of Bettendorf and announced plans for Fieldstone of DeWitt. We've seen our personal and professional lives impacted by COVID-19, and we continue to navigate the changing landscape around the virus and all its implications.
Through it all, you've continued to provide quality services to the individuals and families who have placed their trust in WellSpire. You have placed your own concerns aside, day after day for four months now, to continue to provide that care. For that, we want to thank you, and we want to let you know how proud we are to work alongside you in living out our mission.
When we first announced plans for Genesis Health System and WesleyLife to come together and create WellSpire, our shared goal was to bring a new brand of senior living to eastern Iowa and western Illinois, one that focused on health and well-being, and on a person-centered model of care. Under Genesis, you were an already strong team known for providing quality care and services, and we were fortunate to have that to build upon.
We were even more fortunate that from the very beginning, you believed in WellSpire, and you worked diligently to transition everything from systems to language. "Facilities" became "communities." "Employees" became "team members." And in a relatively short amount of time, you became part of an organizational family that was, and is, proud to work alongside you.
As you celebrate today, please know that we are there with you in spirit, and that we all will be together as soon as we can make that happen safely. In the meantime, please know how much we appreciate each one of you. The idea that began with a series of conversations back in 2018 became a reality because you believed in it. We value your continued partnership and look forward to the year ahead.
Have a wonderful time today, and eat a couple of burgers for us.