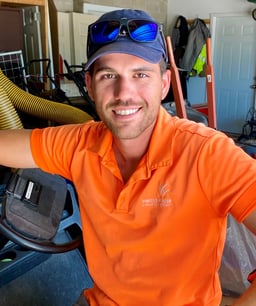 Alex Meyer was in elementary school on September 11, 2001. But even at that young age, the surging patriotism that arose from that day made an impression on him and solidified something he'd been dreaming about since he was very young: He wanted to be a soldier.
"People in my family were in the military, and I remember that it was just always a part of my life," he says. "I loved United States history, and the idea of service to my country really appealed to me. I knew that as soon as I could be a part of it, I would be."
Right after high school graduation, 17-year-old Alex asked his parents to sign documents permitting him to enlist in the Iowa National Guard. Basic training followed; then, at 19, he received notification that he was being deployed to Afghanistan.
"It was the biggest deployment since World War II, and I guess you could say I felt afraid and excited -- both those things at once," Alex, 31, says. "Every soldier's dream is to be deployed, but you also have to realize the risks that come with that."
Alex was to learn first-hand about those risks. Only three months after arriving in Afghanistan, he was on a mission to help provide security at a checkpoint on a road that lined the side of a cliff. An Afghan unit had set up just in front of the American soldiers, and suddenly, things took a turn.
"They maneuvered on us and I was hit in the initial firefight," Alex says. "I remember hearing the bullets pass by my head, and then my leg gave out and I slid behind a vehicle. I started receiving care right away and they told me that my injury wasn't immediately dangerous. So they were able to engage the enemy and they put me in a truck till they could get to me."
From the scene of the injury, Alex was taken to a combat outpost, then eventually to Germany for more treatment, and then home to the United States for further rehabilitation at a Warrior Transition Unit in Missouri. Once he was approved for service, he learned his unit was about to leave Afghanistan, so he waited and rejoined them in Iowa City.
He drilled there for two years and was selected from his unit to attend sniper school, but when that ultimately didn't work out, he allowed his enlistment to expire.
Alex, who received a Purple Heart -- a United States military decoration awarded in the name of the President to those wounded or killed while serving -- as a result of his injury, says he is proud of his service and sometimes misses the camaraderie he enjoyed during his time as a soldier.
But he's also happy that his path brought him to Halcyon House, where he works as groundskeeper and landscaper. He said he'd always been interested in gardening and horticulture, and had studied land conservation in college after returning home -- and his job allows him to use his skills for the betterment of a community he has come to love. Plus, he's from the Washington area and enjoys being close to home.
"It's work that I really enjoy; I love gardening and I love being able to work outside," Alex says. "It's something different every season. And the leadership here is great. I enjoy being part of the team."
Chris Marshall, Executive Director of Halcyon House, said the community is fortunate that Alex's career path brought him to the community.
"Alex does a wonderful job here; he is always busy, very intelligent, kind to everyone, and such a perfectionist," Chris says. "We are proud to honor him as a young veteran and a valued team member."
Alex says even though his life didn't turn out exactly the way he had anticipated, he's content and looks forward to a long career at Halcyon House.
"This job allows me to be home with my family," says Alex, who, with his wife, Samantha, has a 5-year-old daughter, Camille. "I used to be a soldier; now I'm a dad. A lot of people do both really well, but for now, focusing on just one is exactly what I want to be doing!"