For the second year in a row, Great Place to Work Institute has honored WesleyLife with certification as a Great Place to Work. An independent research and consulting firm, Great Place to Work evaluated more than 60 elements of WesleyLife team members' experiences on the job in making its decision.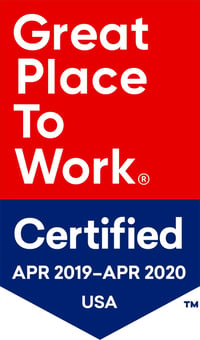 The certification process considered more than 1,000 employee surveys from across the organization's locations throughout Iowa. The survey queried team members about pride in the organization's community impact; their belief that the work they do makes a difference; and the knowledge that their work has special meaning to the organization.
"We're very proud of this designation, and especially proud that it resulted from feedback from our team members about the way they view their importance to our mission and vision," Rob Kretzinger, CEO of WesleyLife, said. "We view our organizational culture as critical to the success and effectiveness of WesleyLife, and we're gratified that our team members look forward to coming to work each day.
"The designation illustrates that we place a high premium on being the kind of organization that inspires trust and provides the tools for our team members to do their very best work on behalf of the people we serve."
WesleyLife employs about 1,500 people in eight Communities for Healthy Living across Iowa, a headquarters campus in Johnston, and WesleyLife at Home campuses. On July 1, the WesleyLife mission will expand to the Quad Cities of Iowa and Illinois through WellSpire, a partnership with Genesis Health System of Davenport, Iowa. WellSpire will break ground on its first Community for Healthy Living – in Bettendorf, Iowa – later this year.
Kristy VanDerWiel, Vice President of People and Culture for WesleyLife, said the organization looks forward to using the Great Place to Work designation as a means of informing potential team members that the organization emphasizes the importance of positive workplace culture and provides each individual with the tools to find meaning in his or her work.
"We want to be an organization where team members can choose to use their strengths in ways that have a positive impact for the people we serve," VanDerWiel said. "The Great Place to Work designation drives the point that creating a work environment of trust and respect for team members enables WesleyLife to successfully live into its purpose. And this shapes our culture as well as how we do business.
"We do what we do because everyone should have the opportunity to live lives of continued growth, experience, engagement and meaning. And just as we believe aging is an opportunity, we believe in creating opportunities and experiences for our team members that will allow them to live their best lives."
For additional information, please contact Lisa Ryan, Director of Communications for WesleyLife, at (515) 988-1788.